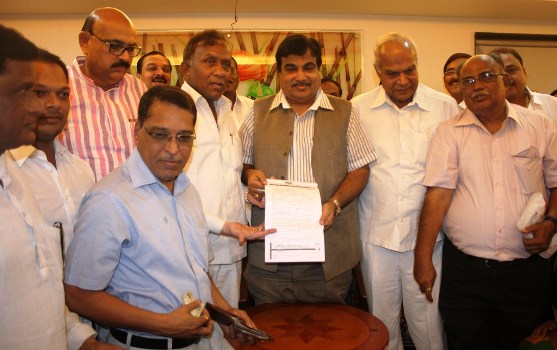 Nagpur News: In an interesting move, BJP's National President Nitin Gadkari has affirmed his candidature as an active member of his party by depositing the prescribed membership fee of Rs 300 in ward no. 41 of Mahal division. The active membership to Gadkari was conferred upon by the party's central mandal president Guddu Trivedi, active membership chief Vinay Rode and Ashish Chitnis.
Also present on the occasion were former BJP MP and member of party's national executive committee Banwarilal Purohit, city president Krishna Khopde, Nagpur (rural) president Dr Raju Potdar, deputy mayor Sandeep Jadhav, MLA Sudhakar Deshmukh, Vikas Kumbhare, Shrikant Deshpande, organisation's general secretary Rajesh Bagdi, Sandeep Joshi, Pramod Pendke, Sanjay Bhende, Chetna Tank, Vicky Kukreja, Kishore Wankhede, Bandu Sirsat, Ashfaq Patel, Dharmpal Meshram, Dr Kirtida Ajmera, Archana Dehankar, Ramesh Dalal, Vikram Pankule, Dwarkaprasad Yadav, Bholenath Sahare, Babli Meshram, Manoj Pande, Sanjay Choudhary, Dashrath Mhaske, Subhash Pardhi, Vandana Yangatwar, Maya Hade, Manisha Kothe, Kalpana Tai Patrale, Rupa Rai, Priyanka Panjwani, Varsha Pekde, Jyoti Janbandhu, Usha Pilot, Alka Sherkule, Rambhau Ambulkar, Shailesh Dhoble, Mahendra Dhanvijay, Bhushan Chawhan, Subhash Kotecha, Manohar Ahuja, Sanjay Wadhwani, Mukesh Agrawal and several other party workers.
Extending his vote of thanks to the party workers, Gadkari said that it is for the collective efforts of all of them, about 3,07,500 primary members and 3,000 active members have been included in the party. He exuded confidence that these members would help strenghten party's position at ward level in view of 2014 Lok Sabha polls.
A large number of people also entered the party in front of Gadkari which also include former nagarsevak Majid Shola. Besides, under the leadership of Sandeep Jadhav, about 150 people including RPI worker Raju Janbandhu joined the party along with Mohammed Salman, Mujaid Khan, Ezaz Sheikh, Shabad Khan, Rohit Ilpachi, Vikas Bopche, Sangharsh Dandekar, Sanjay Thakur, Wasim Khan, Hemant Nikhare, Pramod Repade, Aakash Dhomne, Dayanand Yadav, Rakesh Ghodeswar, Sonu Gupta, Mustafa Khan, Raju Sheikh, Niyaz Sheikh, Asad Sheikh and others.