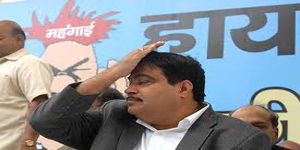 Nagpur News : BJP President Nitin Gadkari has landed into fresh controversy after he wrote a letter to the union water ministry, in which he requested for funds to be released to contractors in a mega dam project in Maharashtra.
Nagpur Today has the copy of the letter ,in his letter dated July 30, 2012, to Union Water Resources Minister Pawan Kumar Bansal, Gadkari urged the Centre to release Rs 400 crores to the contractors of Gosikhurd irrigation dam project in Vidarbha saying, "Due to non-payment of their dues the contractors stop their works. This may delay the programme and would also result in time overrun and delays in creation of irrigation potential."
Notably, the contractors of the project are BJP Rajya Sabha MP Ajay Sancheti and Mitesh Bhangdia.
Sancheti's firm SMS Infrastructure has got crores of rupees of contracts for the project. Earlier, Gadkari had denied business links to Sancheti, threatening to file a lawsuit against Congress leader Digvijaya Singh for alleging the same.
Mitesh Bhangdia's companies M G Bhangdia and Mahendra Construction also have contracts for the dam.
The Gosikhurd irrigation dam project in Vidarbha has been the centrepiece of the BJP's attack against the Maharashtra government, which the party says is guilty of a massive irrigation scam. It was started in 1983 at a cost of 461 crores , but more than 2 decades later, the project is still incomplete, marred by controversy, and the costs have escalated to an estimated Rs 18,000 crore.
Several committees have found fault with the quality of works on the dam, including the Vadnere Committee report, which pointed to lapses by the contractors.
The Central Water Commission (CWC) in its guideline has clearly said that wherever the quality is not up to the mark, work needs to be redone.
In a direct opposite stance to his party, Gadkari defends the state government delays, saying, "The Chairman CWC, New Delhi, too inspected the works mentioned in the complaints freshly made, carried no base."