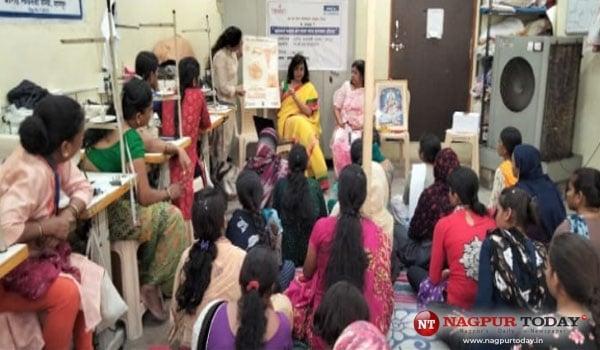 Nagpur: In order to promote "Menstrual Hygiene and Reproductive Health Awareness Campaign", a special programme was organized by NGO AROHA, Nagpur and HCL Foundation for the marginalized women and adolescent girls in the urban slums of Wadi and Mahal on the occasion of World Menstrual Hygiene Day. Menstrual Hygiene Day is an annual awareness day observed on May 28 to highlight the importance of good menstrual hygiene management at a global level. It was initiated by the German-based NGO WASH United in 2014. The main objective of the campaign was to remove taboos related to menstruation, break the silence and change negative social norms.
Before the campaign, a survey was conducted to know the problems related to menstruation and reproductive health of women and adolescent girls. A program was taken in both the centers to solve their problem and for more awareness.
Prominent guests and speakers in the program were Dr. Vaidehi Marathe, Gynaecologist, Director of Maher Maternity & Nursing Home and Dr. Vandana Pahukar, Gynaecologist, Director of Surgical Care Hospital, Sharmistha Gandhi, Chief Executive Officer of NGO AROHA.
Issues and hygiene related to menstrual and reproductive health, the means used during menstruation and the process of disposing, personal hygiene, PCOD, menopause etc. were discussed on this occasion. The guests took a special session to answer women's questions.
During the same, a very important topic was highlighted that, a woman is throwing about 150 kg of plastic from the sanitary napkins used during her menstrual cycle in her entire lifetime, due to which the environment is getting polluted. The best solution suggested was to use menstruation cups & eco-friendly cotton pads. Which are absolutely safe, eco-friendly, cost-effective and do not cause any harm. Women and adolescent girls were made aware of its use by showing menstrual cups and eco-friendly cotton pads. Based on the information given by the campaign, a question-and-answer competition for women and adolescent girls was taken. Bounties were given to the winner of the competition.
Therefore, by talking openly to women and adolescent girls, their self-confidence was increased, as well as they were motivated to make uneducated women and adolescent girls around them aware in this regard. NGO AROHA gave a platform to women and adolescent girls to express their views openly in this matter so that awareness can come in this regard in the true sense.
The main objective of the organization is, "Development of sustainable livelihood of women and empowerment of women, due to which happiness comes in the life of women and women get respect".
Nasrin Ansari, program coordinator, coordinated the campaign and was MOC for the programme.
Mamta Rahangdale, Jayshree Chavan, Lata Dandge, Sheetal Pachare and the leaders, volunteers and team of Wadi and Mahal Center were present to make the program a success.