NFC makes mockery of Range Police with 7-0 victory in NDFA Football Tournament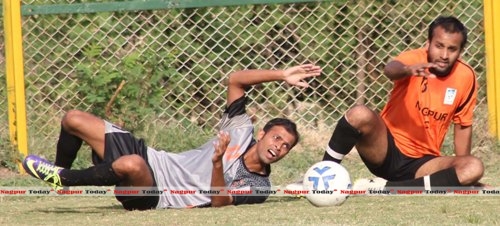 Nagpur News.
In a dull and drab game of football, Nagpur Football Club made a mockery of Range Police by scoring 7-0 victory in the Meghe Group-sponsored NDFA Elite Division Football League match played at South East Central Railway Stadium in Motibagh on July 2, 2014.
In the first half, Emanuel Okaya passed the ball to Hardik Kanojiya and he scored a goal in 7th minute. And again Emanuel Okaya passed the ball to Sushank Bhivgade who scored two goals in 23rd minute and in 50th minute. In the second half, Emanuel Okaya crashed the ball in the Range Police post in 37th minute, Nusrat Kamal 38thminute, Shajat Parsad 49th minute, and Abhinav Yadav 59th minute. And thus the NFC completed the rout and made mockery of Range Police. Referee Stanley Gregory showed yellow card to NFC players Emanuel Okaya 1in the 2thminute, Hardik Kanojiya 52nd minute and to Aqeel Qureshi of  Range Police in 20th minute. The match turned out be very one sided as no fightback was even attempted by Range Police to the end. The match was played only for 70 minutes because of Ramzan in accordance with the decision taken by tournament committee.