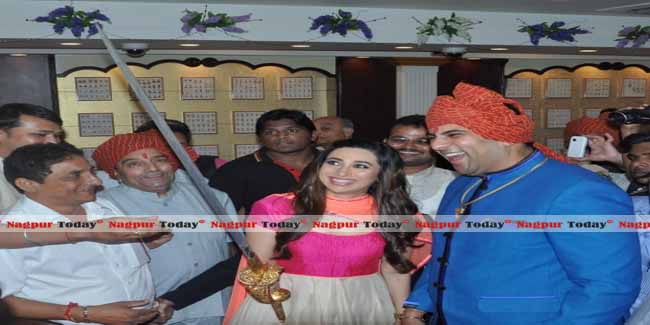 Nagpur News: With a Unique Selling Point (USP) of Think Pure, Be Transparent in all dealings, golden legacy of quality, purity and honesty, P. N. Gadgil Jewelers opened their 9th Showroom in Nagpur city.
P. N. Gadgil Jewelers aimed at reaching out to more and more people of Maharashtra State. Having traveled from Sangli to Pune and now Nagpur, they intend to cater to a varied clientele from people from varied regional affiliations. A step ahead in this golden trail is the brand new showroom opened in Nagpur. The owners claimed that they aim to bring the golden era back to Nagpur. This Navratri, PNG is giving a warm surprise to the winter capital of Maharashtra. The royalty of Nagpur has fragmented by the shine of brand new PNG Jewelers showroom opening. The inauguration of PNG Showroom has done by the famous actress Karisma Kapoor and the 99-year-old Dajikaka Gadgil on October 7, 2013. This specious showroom is located at 'Pashine Ambiance' Central Bazar Road, Bajaj Nagar in the city.
Since Nagpur is emerging as one of the major industrial developing cities, PNG as a brand will add more goodwill to the orange city said Saurabh Gadgil, the 6th generation of the Gadgil clan to be involved in this business. Promoting the tradition of purity and honesty PNG has very well pleased all the Nagpurvasi's said 99-year-old Dajikaka Gadgil while addressing the press meet.
On the occasion Karisma Kapoor Said "It's an honor to be a part of this inauguration and it gives me joyful feeling to being here at this moment. She added that she felt humbled by sitting next to a 99-year-old man who has such vibrancy and energy. Gold never loses its value and especially when it's jewelry with style quotient and traditional touch then it becomes more precious. A woman never gets satisfied with the jewelry collection she has and in that situation PNG Jewelers has brought the unique range of jewelry in a huge variety to fulfill their expectations.
The patriarch of Gadgil family and founder of P.N. Gadgil Jewelers Shri Dajikaka Gadgil said, " It gives me a pleasure to say  that people from all over the world have given tremendous response to all our eight  showrooms. It is 9th showroom of P.N.Gadgil Jewelers and I am sure in the winter capital of Maharashtra will give a good response enabling them to do good business by serving their customers.
Saurabh Gadgil spoke about brand P. N. Gadgil Jewelers and their passion for growth and expansion. He said that after getting our business set in metro city and other historic cities it's a big achievement to set our new showroom at India's famous orange city. I am very proud about our new opening at Nagpur. He further said that "Nagpur is located in center of the Country reaching here is just like reaching to the heart of India".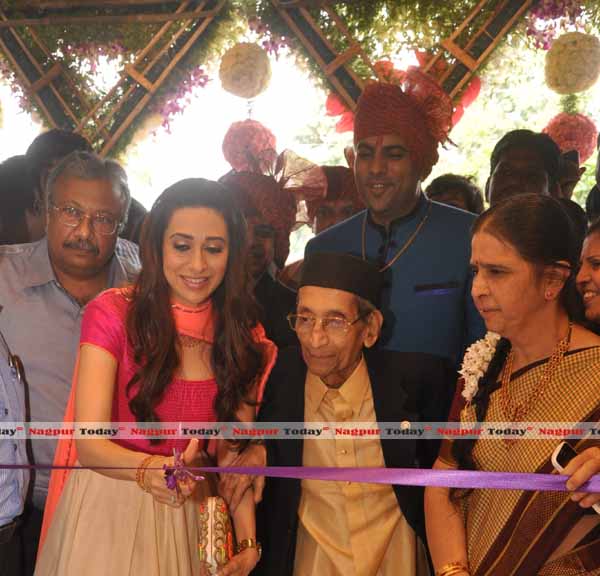 Parag Gadgil said, "That this new showroom is fully prepared to please our customers in Nagpur. With our dazzling range of classic jewelry we are privileged to take legendary legacy ahead in emerging business place like Nagpur.
The P. N. Gadgil Showroom in Nagpur is set in sprawling 6,000 square feet and houses a glittering range of gold ornaments, traditional Maharashtrian jewellery, South Indian Temple Jewellery, Heritage Jewellery, Polki, Jadau, Chakri diamonds, silver ornaments, silver artifacts and exotic diamond jewellery. Plus various regular investment schemes are also offered.
In an exclusive talk with Nagpur Today, Saurabh Gadgil said that Platinum and White metal too are in hot demand especially the engagement rings. The newer generation wants to invest in it. According to him KDM jewellery are banned and nowadays, they are using another alloy to bring the jewellery. He also said that they ventured to Nagpur because it had two neighboring states viz. Chhattisgarh and Madhya Pradesh in close proximity that their jewellery will get a good customer base from these two states as well.