New Saraswati Vidyalaya Alumni Association with 49 members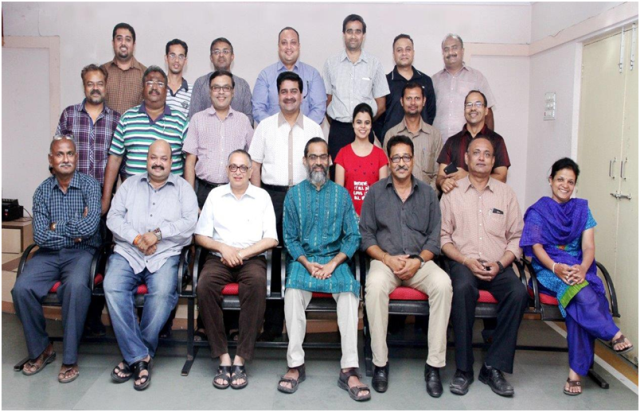 Nagpur: Saraswati Vidyalaya High School and Junior College is an old reputed school of Nagpur which has nurtured many students who have excelled and made a distinct name in India and abroad. Last year ex-students and ex-teachers of Saraswati Vidyalaya with cooperation of South Indian Education Society had organized a unique Reunion event wherein ex-students from 53 batches had joined hands to felicitate their alumni member Devendra Fadnavis who had taken over as Chief Minister of Maharashtra.
This was an exceptional event. It may be added that this was the only felicitation program for which .Devendra Fadnavis had granted consent. Recently South Indian Education Society endorsed and approved the request of those ex-students who had organized last year's event to reconstitute Saraswati Vidyalaya Alumni Association. During centenary celebration of Saraswati Vidyalaya; an Alumni Association was formed with Dr.Natarajan Iyer as President and Janki Ganeshan as Secretary. With permission of SIES, following new body of Saraswati Vidyalaya Alumni Association (SVAA) has been now been nominated in a recent meeting of ex-students of Saraswati Vidyalaya school. Former students K.Jagdeesan and Dr.Suresh Chari who are also members of SIES had moved this historic motion of reconstitution of SVAA which was unanimously accepted by SIES body.
Dr.Anup Marar is President while Udayan Shrouti is Secretary and Shreekrishna Buty is Treasurer of new SVAA body whilst Vice Presidents are Rajendra Kulkarni and Ashwini Jichkar. Mitesh Rambhia and Avinash Sahu will hold charge of Joint Secretaries while Joint Treasurers are Ashish Khandelwal and Rahul Pande. The new SVAA Executive Members are Dr.Suresh Chair, Rakesh Purohit, Sujit Rajankar, Bhanu Rajgopalan, Yogesh Deshmukh, Amit Sampat, Mayank Sharma and Pranay Tidke.
The SVAA Advisory Board constitutes K.Jagdeesan, Jagtar Singh Sethi and Sivarama Krishnan while Ex- Officio Members are Secretary, South Indian Education Society and Principal, Saraswati Vidyalaya, Nagpur. Past President is Dr.Natarajan Iyer and Past Secretary is Janki Ganeshan. The new executive body has also recommended Directors of various committees namely Public Relations Venkatesh Manian & Abhiman Hegde, Sports Promotion Atmaram Pande & G.Sunil, Skill Development & Networking Dharmendra Bandawar & Tushar Tamhane, Press & Publicity Rahul Soman & Swapnil Subhedar, Social Activities & CSR Randhir Nashine & Balaji Buty, Membership & Database management Shankar Bhavsar & Dr.Kshitij Sable, Youth Connect Tejaswini Lohit & Nirav Thakkar, Batch Coordination Sameer Badhe & Shivaji Dhawad, Liaison & Statutory matters Amol Kale, Entrepreneurship Guidance Manoj Virkhare & Vishal Jaiswal, Overseas Affairs Mukul Deoras & MV.Srinivas Rao, Legal Affairs Ramani Patro & Sanjay Rajak & Women Welfare Sulabha Deshpande & Akshita Vyas.
SVAA calls nominations for Saraswati Ratna Award
Saraswati Vidyalaya is an old renowned school of Nagpur that has nurtured many students who have made a significant name world wide in various fields.Saraswati Vidyalaya Alumni Association has called for 5 accomplished names from each batch of Saraswati Vidyalaya who have made a distinct mark in respective fields and made a positive impact on society in any field/ sector Subsequently a jury will screen the best of 5 amongst all those submitted names and Saraswati Ratnas will be awarded to these 5 Achievers amongst alumni members of Saraswati Vidyalaya, Shankar Nagar, Nagpur during last week of December in a glittering ceremony held in School premises.
These awardees will be felicitated by hands of a very distinguished alumni member of the school.
The Saraswati Ratna Awards project will be an annual undertaking by the recently reconstituted Saraswati Vidyalaya Alumni Association.The names with curriculum vitae may be sent directly or nominated by batch mates to Convener of the Saraswati Ratna project namely Rajendra Kulkarni of 1980 batch (Ph.No.9922093855 Email: [email protected]) or Coordinators namely Yogesh Deshmukh of 1988 batch (Ph.No.9422115096 email: [email protected]) and Dr.Kshitij Sable of 2007 batch (Ph.No 9561510489 email [email protected]) Udayan Shrouti, Secretary, Saraswati Vidyalaya Alumni Association( 1980 batch email: [email protected]) has conveyed that the contender/ nominee should be an alumni member of Saraswati Vidyalaya, Nagpur and decision of selected jury will be final and binding to all. The Last date of name submissions has been stipulated as 15th November 2015.
All ex students of Saraswati Vidyalaya are also requested to enroll themselves with Saraswati Vidyalaya Alumni Association through SVAA Membership & Database management Committee directors namely Shankar Bhavsar of 1987 batch in 9850362980 email: [email protected] or Dr Kshitij Sable from 2007 batch in 9561510489 email: [email protected]