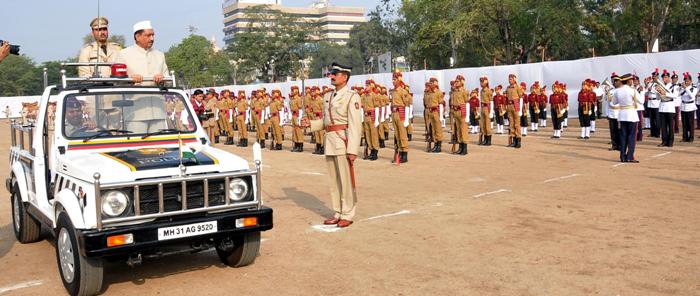 Nagpur News:
THE 64th Republic Day was celebrated in the Orange City on Saturday with display of parade from police and other contingents. District Home Minister Shivajirao Moghe unfurled the National Flag at Kasturchand Park and received salutation from the parade.
Speaking on the occasion, Shivajirao Moghe said, "With many projects declared by Maharashtra Government in Industry and Garments sector, development process of Vidarbha will soon gain momentum. And new industries starting in Nagpur will contribute in the development of Nagpur division." Divisional Commissioner B V Gopala Reddy, Commissioner of Police Kashal Kumar Pathak and District Collector  Saurabh Rao were present prominently for the Republic Day parade.
Moghe said, "Advantage Vidarbha Council has been organized in the city on February 25 and 26. Many big wigs will attend the same. This will open a new avenue for new projects in the city." Moghe pointed out that Central and State Government have already deposited funds in the accounts of the beneficiaries of various schemes. The Social Justice Department of State Government had started this scheme two years ago and around 15 lakh people have been benefited with this scheme.  Rs 1800 crore have been distributed to students under this scheme.
Moghe further showed his concern on increasing number of crimes against women in the country. He said that strict laws were needed and society should have a positive change in its perspective. Adding further, Moghe said that children between the age 6 and 14 received free education from Class 1 to 8 and parents should take advantage of this scheme to increase the literacy rate.
On this occasion, Kalpana Devte, Kanta Damle, Sujata Kombade, and Wasanti Deshpande were felicitated at the hands of Shivajirao Moghe. Sant Gadge Baba Gram Swachhata Abhiyan won 22 awards while Bhonsala Military School and Prahar Military School won prize in march past respectively. Girl students of Rajendra Vidalaya were felicitated for Road Safety. Ram and Devendra Mate, who volunteered to give Combichrist with 290 Volvo Skewer machine to save the people from building that collapsed in Kalamna on Janary 30, 2012, were also felicitated on the occasion. Moghe congratulated Director  of SCZCC Ravindra Singhal and DCP Sunil Kolhe for getting Police Medal for meritorious service.
Freedom fighters, judges, corporators, police officers, political leaders and many others were present prominently to witness the Republic Day celebrations.