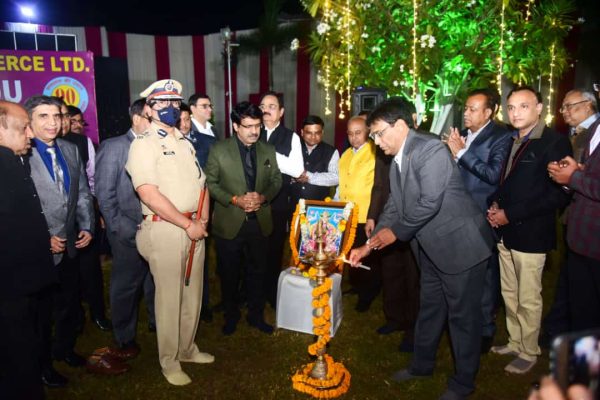 Nagpur – Addressing the participants of the Diwali Milan event organised here by the Nagpur Chamber of Commerce Limited (NCC,) on Sunday, Mayor Dayashankar Tiwari said that all the sections of the society behaved responsibly during the recent outbreak of coronavirus and helped the civic authorities to control the pandemic.
" The trades also took a very positive role and followed all the guideline issued by the Nagpur Municipal Corporation," he said.
However, Tiwari remained tight-lipped on some of the civic issues raised by the chamber. In this introductory remarks, President of the chamber Kailash Jogani highlighted the issues like increased pot holes on city roads, encroachment at various marketplaces, illegal hoardings, improverment in public transport system and speedy assessment of properties in the city.
Tiwari and Commissioner of Police Amitesh Kumar were the chief guests on the occasion.
Expressing his views, Amitesh Kumar also said that people of the city set aside their differences and work together to prevent the spread of virus. Commenting on the law and order situation in the city, he said that the police force is 24×7 ready to deal with any eventuality. "No one will be allowed to break the laws and our message is very loud and clear that if someone does it, the police will take tough action against him or her," he said.
Replying to the queries raised by the chamber, Amitesh Kumar said that he would arrange a separate meeting with office-bearers of the chamber to discuss the issues. On the occasion, the chamber also conferred 'NCC lL Awards of Excellence – 2021' on two personalities – Zulfiqar Kamal, Director Finance, Zim Laboratories and Ramprasad agrawal, Managing Director, Pench Tiger Retreat Pvt. Ltd., Vanraj Resort, Pench (MP). Zulfiqar Kamal was chosen for the award from the industry category while Ramprasad Agrawal was selected from the trade and service Category.
A large number of the traders, professionals and others with their family members took part in the event held at Maharajbagh Club. Representatives of many associations and traders' bodies also joined the celebration.
Neha Jaiswal welcomed the guests and Govind Pasari, Vice-President of the Chamber and Joint Secretary Vivek Murarka jointly conducted the procedings of the function while Secretary Tarun Nirban proposed the formal vote of thanks.
Also Past President of NCCL Santoshkumar Agrawal, Bhagirathi Murarka, IPP Vishnukumar Pacheriwala, Sr. V. President Pradeep Jajoo, Vice President Govind Pasari, Secretary Tarun Nirban , Treasurer Venugopal Agarwal , Vivek Murarka – Jt. Secretary, Vasant Paliwal – Jt. Secretary, and Director of Vijay Jaiswal, Purushottam Thakr, Vipin Panpaliya, Shankarlal Khandelwal, Nathabhai Patel, Deokinandan Khandelwal, Kamal Kalantri, Girish Liladiya, Wasudeo Jhamnani, Yogesh Paliwal, Rajesh Soni, Mahendra Katariya were also presents.