New Delhi: For obvious reasons, the Modi government kept oil prices in check in the run-up to the Karnataka assembly elections, but the prices shooting up after the polls does not mean their impact will not hit Modi's future.
State-owned oil companies chose not to increase fuel prices for 19 days leading to the elections. However, as soon as the polls got over, the prices started rising. Petrol price on Sunday touched a record high of Rs 76.24 per litre and diesel climbed to its highest ever level of Rs 67.57 in the national capital as the oil PSUs passed on four weeks of relentless rise in international oil prices to consumers.
If stable fuel prices before the Karnataka elections could help BJP's prospects in the state, the post-poll spurt will certainly mean the opposite by hitting consumer sentiment and thus the image of the government. The next Lok Sabha elections being less than an year away, continued rise in prices can spell political damage for the party.
Remaining non-committal on cutting excise duty to ease the burden from rising prices, the government said that the recent spurt in global rates was a matter of concern as it could inflate import bill by as much as $50 billion and impact current account deficit. However, economic affairs secretary Subhash Chandra Garg said without elaborating that economic growth would not be impacted by the rise in oil prices, which have touched $80 per barrel — highest since November 2014. The spurt in oil prices will push up the oil import bill by $25 billion to $50 billion under different scenarios, he said, adding that India spent $72 billion on oil imports last year.
In less than a year of Modi becoming the prime minister in May 2014, the price of the Indian basket of crude oil crashed from $113 per barrel to $50 by January. That was a bonanza for a government struggling to manage fiscal deficit and planning large social-sector spending.
Spurt in oil prices now will definitely cramp the fiscal space in a year before the next Lok Sabha polls when the government would want to increase social spending as well as keep the economic growth on track.
A report by global financial services major Nomura last year said that every $10 per barrel rise in the price would worsen India's fiscal balance by 0.1% and current account balance by 0.4% of GDP. "For a net oil importer like India, a sustained rise in crude oil price would have adverse macroeconomic implications," it said. "Higher oil prices are tantamount to a negative terms-of-trade shock that weakens growth, pushes up inflation and deteriorates the twin deficits (current account deficit and fiscal deficit)," it added.
Nomura said rise in inflation due to higher prices could lower real disposable incomes of households and therefore hurt consumer discretionary demand. It will also lowers corporate profit margins due to rising input costs and accordingly impacts investment, among others.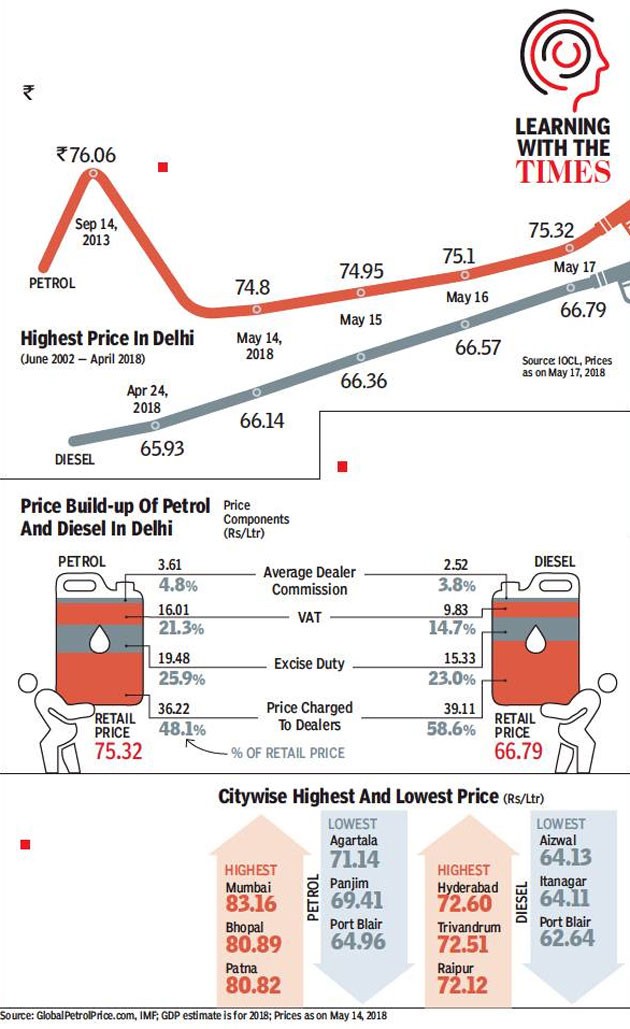 The surge in fuel prices continued unabated on Friday as the petrol price in the national capital of Delhi hit Rs 75.61, up 29 paise from Rs 75.32 on Thursday. Diesel prices in Delhi also went up in equal measure as it breached the Rs 67-mark and stood at Rs 67.08. The uptick is largely being seen as a fallout of escalation in global crude oil prices which went northwards of $80 per barrel. On Thursday, brokerage firms suggested that a hike of Rs 4 in petrol, diesel prices was on the cards. "Our computation suggests that downstream oil marketing companies are required to increase retail prices of diesel by a steep Rs 3.5-4 a litre and gasoline (petrol) by Rs 4-4.55 per litre in the coming weeks to earn normative gross marketing margins of Rs 2.7/litre," Kotak Institutional Equities said in a report.
In the current scenario, Modi faces a bigger battle at the petrol pumps than in Karnataka. Less money with the government and people paying more for fuel and commodities are challenging prospects for a government preparing to seek another mandate next year.
Oil minister Dharmendra Pradhan on Sunday raised hopes of the government cutting excise duty to soften the impact of oil prices as petrol and diesel prices. "The Centre is sensitive towards the rising fuel prices. Various alternatives are being explored. I hope something will work out soon," Pradhan told reporters in Bhubaneswar.
Over 50% of petrol's retail price constitutes taxes and dealer commissions. For diesel, the corresponding figure is over 40%. Taxes vary in different states and hence there are variations in retail prices.
—As Published In The Economic Times