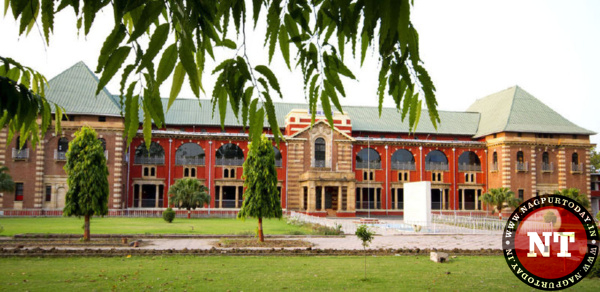 Nagpur: The Nanar refinery project issue continued to cripple proceedings in Legislative Assembly as the House was adjourned for brief period amid war of words between Congress and Shiv Sena members on Thursday.
As the proceedings started, the Leader of Opposition Radhakrushna Vikhe Patil started speaking and said that local residents in Konkan including Sarpanchs of 17 villages have been protesting since past two days against the proposed oil refinery project at Nanar. The District Collector held three Gram Sabhas but the protest continued. The land allotted for this project is allegedly being purchased by people from outside the region and state. The proposed project would also be scam-hit like the Samruddhi Marg project. The Shiv Sena leaders tried to hog credit by opposing the project but the local protesters snubbed them, Vikhe Patil said.
Following Vikhe Patil's assertion, the angry Shiv Sena members started raising slogans and demanded apology from the Leader of Opposition. Amid the din, the Speaker adjourned the House for 10 minutes.
Earlier on Wednesday, for the first time in history of Maharashtra State Legislature, the members from ruling front — MLAs of Shiv Sena attempted to snatch away the Speaker's mace over Nanar refinery project issue. The incident, as expected, led to uproar in the House forcing the Speaker to adjourn proceedings for entire day. Shiv Sena has locked horns with alliance partner Bharatiya Janata Party (BJP) over Nanar refinery project proposed in Konkan. The party stepped-up its attack, this time inside the House. After wrangling over procedures and trying to have their way, Sena MLAs went on offensive in the Assembly.
Congress dissident Nitesh Rane, who belongs to Konkan, also joined the Sena MLAs in the attempt to snatch the mace. Although Rane's father, Narayan Rane is with Bharatiya JanataParty (BJP), the family is with Shiv Sena on matter of opposing Nanar refinery project.
The Leader of Opposition Vikhe Patil termed the act of Shiv Sena members to snatch the Speaker's mace as a stunt. He said if Sena is really against Nanar project then it should pull out of Government and stop befooling people of Konkan. Shiv Sena is befooling people of Konkan by trying to show that they are opposed to Nanar refinery project but do not have courage to relinquish power, Vikhe-Patil further said.