Ignoring sign boards, flouting traffic norms leading to deadly mishaps at the flyover: Senior PI Rajput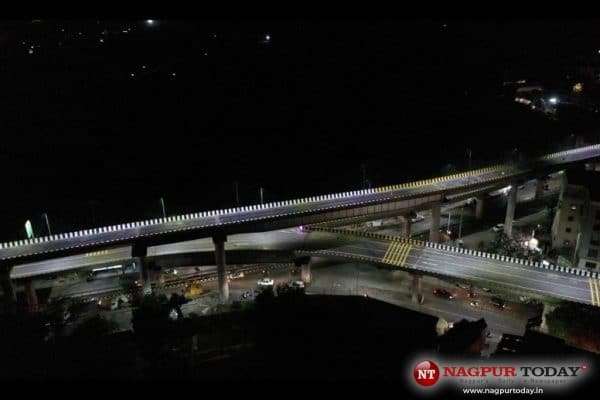 Nagpur: Besides, several minor mishaps owing to rash driving, Sadar flyover — riddled with a couple of Y-points, several curves and unique topography — has reported a series of major accidents, including three commuters throwing off the bridge within a span of one year of its opening.
While Nagpur Today probed the reasons behind these deadly incidents, "ignoring sign boards, crossing speed limits, unnecessary overtaking and U-turns" have been found some of the key factors leading to the fatal mishaps at Sadar Flyover. The flyover was thrown open to traffic barely a year-and-half ago.
In an exclusive interview with Nagpur Today, the Senior Police Inspector (Traffic) Jagvindersingh Rajput focused on how erratic driving is proving life threatening at Sadar Flyover.
Ignoring sign boards, speed limits:
"It just feels that no one has enough time to acknowledge traffic rules these days, especially when it comes to travel on Sadar Flyover. Sign boards play a crucial role while commuting on any bridge. However, commuters tend to ignore these sign boards installed at the bridge, including at two sensitive Y-points. Apart from that not obeying speed limits and constantly honking at other vehicles travelling with speed cap of 50 km/h is another issue," PI Rajput said.
U-turns, cutting line:
"Despite U-turns and cutting line has been prohibited on bridges, Sadar Flyover observes proceedings in contrast. Be it at LIC end, Katol end or even Mankapur end of the flyover, we've found commuters taking U-turns on the flyover risking their lives along with others. The travellers tend to cut lines while driving, this also could lead to any untoward incident," he mentioned.
Preventive steps, right from counseling to challans:
"To curb this menace, Nagpur Traffic Department initiated several counseling sessions of commuters, even slapped the challans but in vain," PI Rajput added.
"Whenever cops used to find anyone flouting traffic norms on Sadar Flyover, we used to warn them that he/she was not only risking their own life but also posing danger to other travellers. However, when commuters took our advice for granted, we slapped challans, but to no avail," PI Rajput asserted.
India reports 3,74,397 fatalities in road accidents : NCRB
Notably, India recorded 3,74,397 fatalities in road accidents in 2020 with crashes constituting over 35 per cent of such fatalities, according to government data. The number of deaths in 2020 was, however, lower than 2019 when the figure stood at 4,21,104, the annual report of the National Crime Records Bureau (NCRB) showed.
The rate of 'accident deaths' per lakh population stood at 27.7 in 2020, down from 31.4 the previous year.
India recorded 3,54,796 cases of road accidents during 2020 in which 1,33,201 people died and 3,35,201 were injured, the NCRB, which functions under the Union Ministry of Home Affairs, stated.
More than 60 per cent of the road accidents were caused due to overspeeding, accounting for 75,333 deaths and 2,09,736 persons injured, the report stated.
According to the NCRB, 43.6 percent of victims of road accidents were riders of two-wheelers, followed by cars, trucks or lorries and buses accounting for 13.2 per cent, 12.8 percent and 3.1 per cent of deaths due to road accidents, respectively.
– Shubham Nagdeve