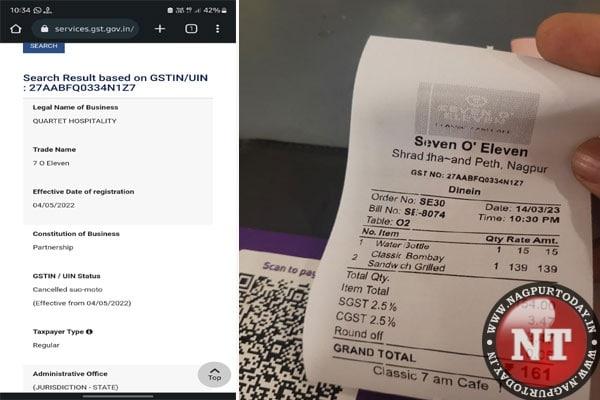 Nagpur: Just a few hours after reporting how Nagpur's Seven O'Eleven café had been charging Goods and Service Tax (GST) to their customers illegally, the café rectified their mistake and withdrew the GST charges from the bills.
The incident was reported by a netizen on Tuesday evening, pointing out that the GST number mentioned on the bill was suspended when checked on the GST portal and however, the restaurant continued to collect the GST on the food bills.
Nagpur Today then reported the issue, post which, the GST was withdrawn by the restaurant.
What should be done if a restaurant charges the wrong GST?
Nagpur Residential Hotels Association President Tejinder Singh Renu informed that not only restaurants, no one can collect GST if the number has been suspended and such collections become illegal.
"Restaurants have two options to opt for GST, first is regular GST, wherein GST can be collected in their invoices, and they have to file routine GST returns," Singh said. He further added that if such a restaurant or anyone adopted a Composition Scheme, they can't collect GST separately in their invoices. They have to pay GST on their turnover, which in the case of restaurants is 5 per cent.