On their visit to the city to participate in Dhamaal Dandiya Celebration 'Utaran' fame television actors Nandish Sandhu and Shreejita Dey get candid with Nagpur Today
TV soap stars are shining more blighter and in larger clusters in Nagpur, this Navaratri. Prominent among the garba venues are Dhamaal Dandiya – a vibrant garba fest hosted by Raisoni Group. With years of credibility and scintillating celebrations, this event has become a name to reckon with. This season, more and more television actors are pouring like nothing to cheer the city's young and energetic people at this event.
On Wednesday 'Utaran' fame television actors Nandish Sandhu and Shreejita Dey graced the event with their presence to participate in the Garba with the students.
Nandish's claim to fame was his big break he got in Uttaran as Veer. He was also seen in shows like Kayamath, Ssshhhh…Phir Koi Hai, Jhansi Ki Rani. With his looks, he said, he is liked by many for playing the role of a good husband and positive roles. He claimed that his last role was in Zee TV's serial Phir Subah Hogi.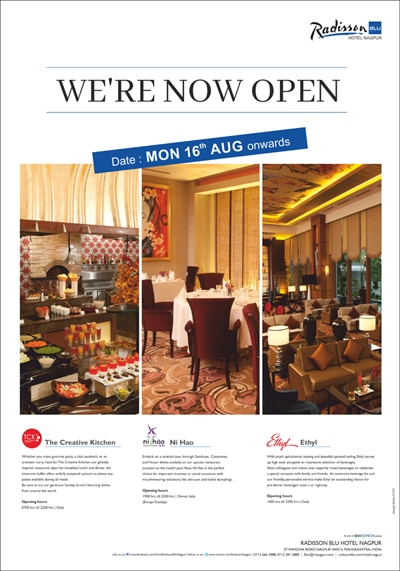 Sreejita has appeared in couple of Bollywood films and television shows. She made her debut with the soap opera Kasautii Zindagii Kay (2007) and is currently playing the role of Mukta in Uttaran that airs on Colors. Sreejita debuted on TV with Kasautii Zindagii Kay playing the role of Gargi Bajaj. In 2008, she appeared in a small role in the Bollywood film Tashan. In the same year, she played the lead role in the soap opera Annu Ki Ho Gayee Waah Bhai Waah as Annu.
In an exclusive talk with Nagpur Today, both shared their journey till now, and nonetheless, their experience with the city of Nagpur.
We began our discussion with Nandish. The Excerpts…
Third visit to Nagpur
Nandish Sandhu said that this is the third time that he is visiting the city. He claimed that he loved the vibrancy and the energy of the youth. "The city simply welcomes you with an open heart without any reservations", he added. Nandish claimed that after Kolkata, Nagpur is a city where people love you without any reservations. Nagpur is a city where one feels young always.
Message to city's youth
Nandish said that while he does not want to sound preachy, he would like to tell the youngsters that he is still learning and there is a lot to learn about life. He claimed that after a difficult phase or problem gets over and when you look you would feel encouraged that you could overcome the problem or the difficult phase in life. You will also realize that there is no difficulty in life which one cannot bear. Nandish said that there is an Almighty God, however, he does not believe in miracles where one does not work hard for it.
Recognise your potential
Nandish said that one needs to recognize one's own potential. Doing something under pressure or duress does not yield any results. One has to be ready to face any difficulty and then struggle to overcome it.
Pain behind gain
When the youngsters see us today, they feel, it is so cool that we go to any place, shake a leg or two, shake hands with a few people and we are paid in lakhs. Nobody realizes the pain, the way manipulations go in a big way, the kind of politics that goes on, the struggle that we put in, before we reached where we are. Every profession has a price and one must be ready to pay the price to be successful.  However, one should not get duped by conmen who lure you, take advantage of you and you finally land in some major problem or disaster.
Godfather keeps you going
Money plays an important role since it helps one get through the struggling period and to meet various expenses. Having a Godfather in the industry does help. One should also have the right contact which helps one get job. Getting a degree in performing arts, especially from reputed colleges or institutions helps one get the due recognitions. One should be passionate to follow the dreams and not get wavered on the way.
Nandish Sandhu wished all the citizens and his fans a very Happy Navratri festival.
Talking to Nagpur Today, the gorgeous Sreejita Dey said that Nagpur is beautiful, peaceful, green and awesome. The people of Nagpur shower a lots and lots of Love. Sreejita De in her message to the youth, said youth should keep up the good spirits, passion and have faith in themselves. She urged the youth never to give up in any situation or trial. One should continue to struggle and in the end, they will definitely succeed."
Sreejita De greeted the people on the occasion of Navratri and said: "Enjoy the Navratra, Keep dancing and enjoy your life. Happy Navratri".