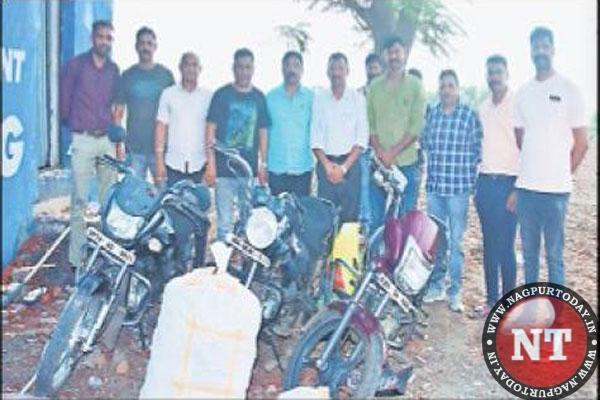 Nagpur: In a significant breakthrough, the Local Crime Branch (LCB) of Nagpur Rural Police uncovered a major smuggling operation in the Butibori area, and seized a substantial amount of contraband.
Acting on a tip-off, the police laid a trap near Rajasthani Dhaba near Chimnazari village, leading to the discovery of 43 kg of ganja (Marijuana) worth Rs 4.35 lakh. What made this operation unique was the innovative technique adopted by the accused, who concealed the illicit substance under seats of their motorcycles and a mat.
During the trap laid near a dhaba, the police grew suspicious when three persons approached the location on three motorcycles, carrying mats. Acting swiftly, the police surrounded them. However, before the police could make the arrests, the smugglers managed to evade capture by fleeing into the nearby jungle. The police carried out a thorough search of the area. During the operation, they confiscated the three motorcycles used by the smugglers, which were identified with the registration numbers UP-74/AD-8911, MH-40/AY8939, and RJ-07/GS-6282.
The police discovered additional evidence, including debit cards, voter cards, and Aadhaar cards, presumably belonging to the smugglers. The police promptly registered an offence under the provisions of the Narcotic Drugs and Psychotropic Substances (NDPS) Act at the Butibori Police Station.
This successful operation was carried out under the guidance of Superintendent of Police, Vishal Anand, and Additional Superintendent, Dr Sandip Pakhale. The arrest was made by Police Inspector LCB Omprakash Kokate, along with the support of Police Sub-Inspector Ashish Morkhade, Assistant Sub-Inspector Chandrashekhar Ghadekar, and staff including Milind Nandurkar, Dinesh Adhapure, Amrut Kinge, Vipin Gaidhane, Rohan Dakhore, Mayur Dhekale and Sumit Bangde.