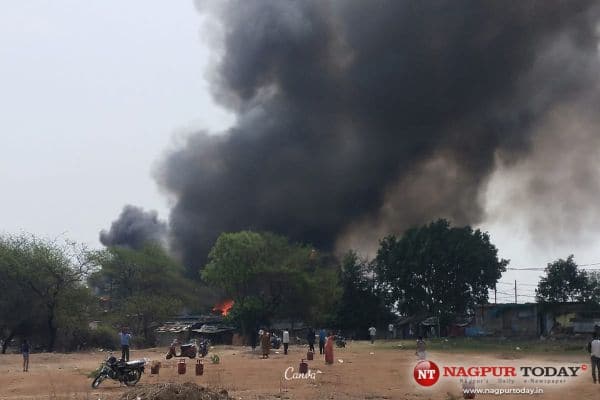 Nagpur: Heartbreaking scenes were witnessed when a major fire broke out in a residential area in Nagpur city on Monday causing damage to nearly 100 hutments. According to reports, women and children watched helplessly as their homes were destroyed. Some people were seen guarding their LPG cylinders and other material they had managed to save from the devastating fire.
Some of the residents had hidden their ornaments under the floor of their shanties. After the fire-fighters doused the flames, the residents ran towards the house to recover their hidden valuables from the floor of the houses, witnesses said. Apart from their belonging, hard earned savings and valuables, some residents rued losing all their crucial documents.
Over 100 families in Mahakali Nagar slums, some distance behind Beltarodi Police Station, were rendered homeless after a fire swept through the hutments. As several residents lost their homes as well as ration, local politicians and administration came forward to help. A pandal was set up and food arrangements were made. For spending the night, a nearby Ashram of a social organisation has become a home for the people who lost everything in the fire.
Guardian Minister Dr Nitin Raut, District Collector R Vimala, DCP Zone IV Nurool Hasan, Beltarodi PI Chandrakant Yadav visited the spot after the incident.
According to reports, though no casualty has been reported, a minor girl is missing and efforts were on to trace her.
The NMC's Fire Department has not established the exact cause of the fire. Several theories were doing the rounds in the area. Some claimed the fire started due to a short circuit in one of the houses, others said it was due to garbage being burnt near a house. Some residents said a widow staying alone had left after lighting a prayer lamp, and the fire started from the altar. Others said she set alight some garbage, and the fire spread after she left her house.
Local residents said some of them suffered burns while trying to douse the fire themselves. A girl sustained injuries after a portion of her shanty collapsed on her, said a local resident, adding they risked their lives by dragging out cylinders from shanties and hurling them into nullahs and in the nearby field.
Meanwhile, some TV journalists, who had gone to cover the incident, alleged that some people from the area abused and attacked them, reports said.