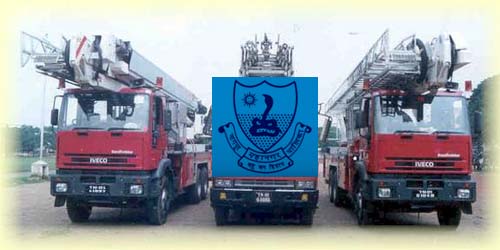 Nagpur News : The Fire Department of Nagpur Municipal Corporation is reeling under severe staff crisis as the number of inefficient workers is assigned with the responsibility that is required to be carried out under experienced guidance.  Going by the city's expanding population, there is serious dearth of fire tenders, equipment's and fire brigades in the department.
With such an state of affairs, the deparment is fighting for its existence instead of preparing for the rescue operation. Despite the series of calls and reminders, the administration remained inactive in appointing fire officers and firemen at its disposal.
The winter session of State Assembly is scheduled to begin in three days, wherein all the members of state cabinet including political bigwigs would be participating. The fire deparment with its handful of employees is expected to face the tough time ahead as they will have to cope up with the morchas, rallies and at the same time monitor other fire sensitive areas.
It is learnt that several posts of  officers and firemen have been lying vacant in the fire department for last many years. The department has also made correspondence in this regard with the commissioner and deputy commissioner but to no avail. The seniors always misguided on the issue raising the backlog to alarming proportion, a departmental source informed.
The rising populace and growing infrastructure of Nagpur has presented fresh need for the state-of-the-art fire fighting mechanism equipped with trained fire tenders and expert employees. The recent fire that broke out at Mantralaya in Mumbai has exposed the flaws there as the trainee fire tenders were engaged in the rescue operation. This has opened a fresh debate on how equipped is Nagpur for any such emergency.  A quick check on the resources and manpower at city's fire department turns out to be an eyeopener. All the equipments and talks of going hi-tech appears to be an eyewash after the ground reality is revealed.
At present, there are only 6 assistant officers to tame the situation across the city whereas two more officers do not have any work experience. Interestingly, assistant officer A.S. Fulsunge is retiring next month. Any emergency is being controlled by the trainees from fire college who do not have enough timber to handle big responsibility.
Even the routine functioning too seems to be badly affected with the current staff shortage. This is evident in the fact that where the fire department used to collect about Rs 60 crores from issuing no-objection certificates to various organisations and projects in the city, the figures have drastically slipped to mere Rs 2 crores in the year 2011-12.