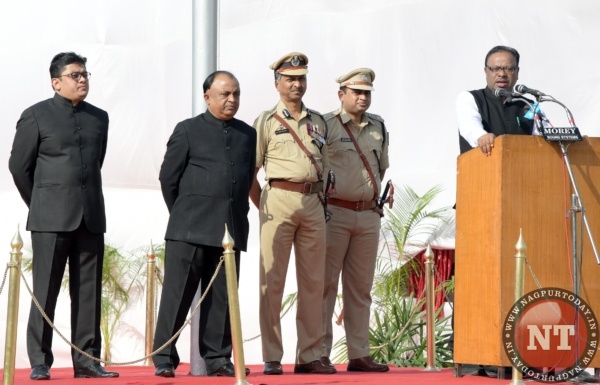 Nagpur: The Guardian Minister Chandrashekhar Bawankule wished people on the occasion of Maharashtra Day. As the world celebrates International Labour Day, the May 1 also marks Maharashtra Day or Maharashtra Diwas. This is the day when the State of Maharashtra came into existence. It was on this day in 1960 when the state was formed on linguistic grounds.
The main function of 58th Maharashtra Day celebration was held at the sprawling Kasturchand Park. Bawankule unfurled the national flag, inspected the ceremonial parade and accepted salute presented by the marching contingents.
Other dignitaries present on the occasion include Zilla Parishad President Nisha Savarkar, MLA Dr Milind Mane, Divisional Commissioner Anoop Kumar, Police Commissioner Dr K Venkatesham, District Collector Ashwin Mudgal, DSP Shailesh Balkawde, freedom fighters, judges, citizens, and other prominent personalities.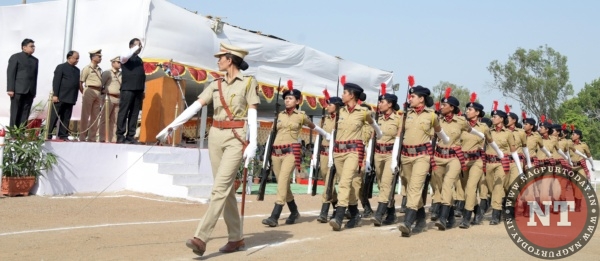 Speaking on the occasion, Bawankule said the state government is giving utmost priority in sustainable development of agriculture sector, basic amenities such as roads, water supply, electricity, education and employment, and health sector. "With all round development, not only Nagpur city but entire Nagpur district will be known as Smart District in the state," Bawankule declared.
"The State Government has announced the biggest farm loan waiver scheme and implemented it with transparently and speedily. The loan waiver scheme has benefited 47,000 farmers with waiving of debt worth Rs 350 crore. Along with basis facilities, an ambitious irrigation scheme is being implemented for farmers. The farmers are being provided electricity for agri pumps, high tension feeder line is being erected for the purpose. Schemes to set up solar agriculture pumps and solar transformers are being implemented for benefit of farmers," The Guardian Minister said.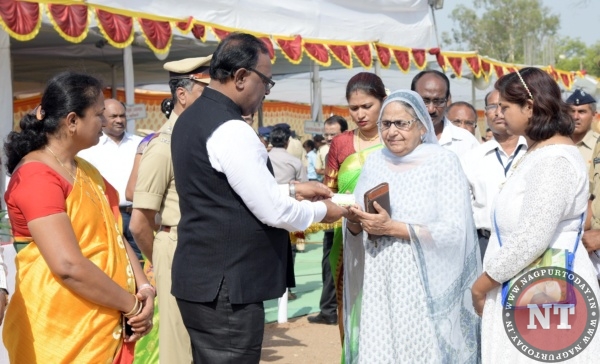 He further said, Jalyukta Shivar Campaign is being implemented effectively for dealing with water scarcity and guaranteed irrigation facility for farmers. More than 3000 works have been completed in 220 villages of Nagpur district and work in 170 villages has been started in 170 other villages this year. 104 irrigation projects under Baliraja Jalsanjivani Yojana are being completed in state," he said.
"Nagpur City has been selected for development as Smart City under Central Government's Smart City Mission. Projects worth Rs 1002 crore have been proposed. Out of this amount, a fund of Rs 383 crore including share of Rs 190 crore from Central Government, Rs 143 crore from State Government, and Rs 50 crore from local self-government has been received. A network of CCTV cameras, Control and Command Centre, Smart Solid Waste Management and three other projects are being implemented. Work of Nagpur Metro Rail is being completed on fast pace. Nagpur city is best among other cities in management of solid waste. 'Waste to electricity' project is being planned. A network of cement roads is being constructed across the city," Bawankule said.
Bawankule also highlighted other schemes and projects being implemented in Nagpur district such as 465 online services of 40 departments, modernisation of police department, tourism development at Koradi Devi Mandir etc.