Nagpur decks up for Dhammachakra Pravartan Din celebrations on Oct 22

Lakhs of followers of Dr Babasaheb Ambedkar will converge here on the occasion of 59th Dhammachakra Pravartan Din to be celebrated on Thursday (October 22)

Nagpur: The historic monument Deekshabhoomi and City of Nagpur are all decked up to welcome lakhs of followers of Dr Babasaheb Ambedkar who will converge here on the occasion of 59th Dhammachakra Pravartan Din to be celebrated on Thursday (October 22). The District Administration put itself on top gear and placed all necessary arrangements in place for convenience of the visiting devotees. The Nagpur Municipal Corporation (NMC) on its part has set up a Control Room near the statue of Annabhau Sathe. The Control Room was inaugurated by Mayor Pravin Datke today. All the concerned zonal officials and employees of NMC have been deployed at the Control Room for 24 hours to oversee the arrangements and deal with any exigency.
Chief Minister Devendra Fadnavis and Union Minister Nitin Gadkari will be the chief guests at the 59th annual Dhammachakra Pravartan Day to mark the mass conversion into Buddhism led by Dr Babasaheb Ambedkar. Union Minister for Agriculture Radha Mohan Singh, Maharashtra Energy Minister Chandrashekhar Bawankule, Social Justice Minister Rajkumar Badole and former minister Shivajirao Moghe will also be present for the event at Deekshabhoomi here on October 22.
A number of Buddhist monks (Bhante) from Thailand, Japan, Cambodia, Sri Lanka, Laos and other countries will also take part in the annual event, that will be held in the evening, Sadanand Fulzele, secretary of Dr Babasaheb Ambedkar Smarak Samiti, told reporters here.
A security blanket has been thrown at Deekshabhoomi and at other vantage points with policemen dotting the place.
The NMC has made arrangements of temporary toilets in ITI and Blind School premises. Similarly, 100 bathrooms and urinals have been constructed. A massive pandal has been erected in front of ITI for temporary boarding of devotees. Water Works Department has made arrangements to provide 24 hour drinking water and deployed water tankers around four sides of the Deekshabhoomi. 200 temporary water connections will be provided at various places. Similarly, electricity, health facilities are in place. Dustbins, containers, waste boxes are to be placed majority of the areas. Water will be made easily available for devotees using toilets, bathrooms and at other places. The eatery vendors, tea stalls have been asked to drop plastic plates, glasses and other garbage at specified places.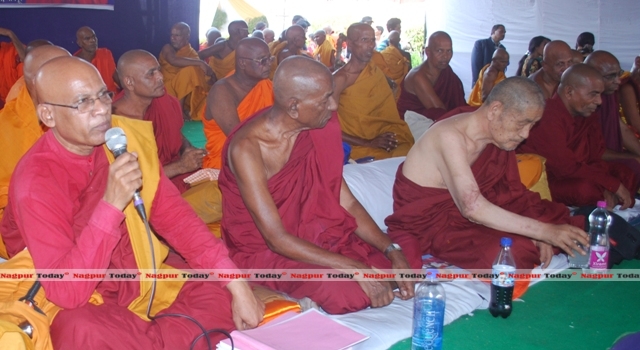 The Agriculture Deartment, Atma and Dr Panjabrao Deshmukh Krishi Vidyapith have jointly organized a Agri Technology Expo and Discussion Session in the grounds of Postgraduate Hostel near Deekshabhoomi to mark Dhammachakra Pravartan Din. The event, to be held from October 21 to 23, was inaugurated by Rajkumar Badole, Minister for Social Justice, Government of Maharashtra.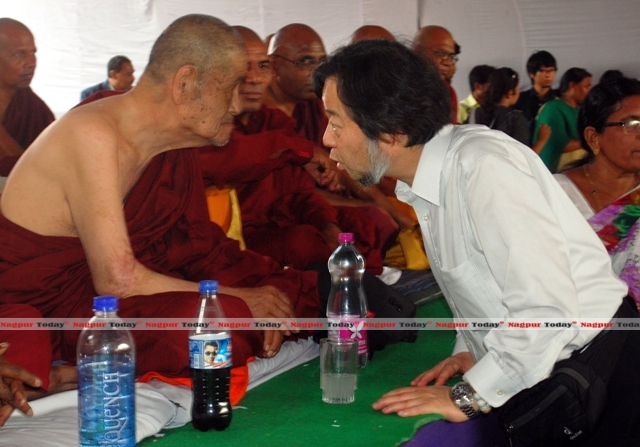 Similarly, various organisations have made arrangements to distribute free food, drinking water, health services etc during the Dhammachakra Pravartan Din celebrations. Various programmes have been planned to mark the occasion. All India Backward Classes Telecom Employees Sanghatan has installed a drinking water kiosk and food stall.  People's Republican Party has organised a rally of Bhim Sainiks, at Morris College ground, near Yashwant Stadium, at 5 pm on Wednesday. Golapalli Suryarao, Legislator from Andhra Pradesh, will inaugurate the rally. National President of the Party Prof Jogendra Kawade will preside over. Adv B D Lok from Amlapuram and M Premkumar will be the guests of honour. Rashtrasant Tukdoji Maharaj Nagpur University (RTMNU) and Backward Classes Employees will have an Assistance and Guidance Association Information Centre. RTMNU Department of Dr Ambedkar Thoughts, in association with Maharashtra Jeevan Pradhikaran Employees Association and BANAE will present street plays to spread message of Dr Babasaheb Ambedkar. The students from various colleges will participate. The programme will be inaugurated at Chitrakala Mahavidyalaya, near Deekshabhoomi, at 9 am on Thursday Canara Bank SC/ST Employees'WelfareAssociation, Regional Committee has made arrangement to distribute drinking water and fruits. Buddha Vandana and sweets distribution will be held on Thursday. AG-II office will provide infor-mation about pension and prov-ident fund, at its stall no. G-155-A. The stall will be inaugurated on Wednesday by retired IAS officer P 1′ Dhole. Bharatiya Janata Party Anusuchit Jati Morcha has made arrangement of free food at New English High School, Congress Nagar.