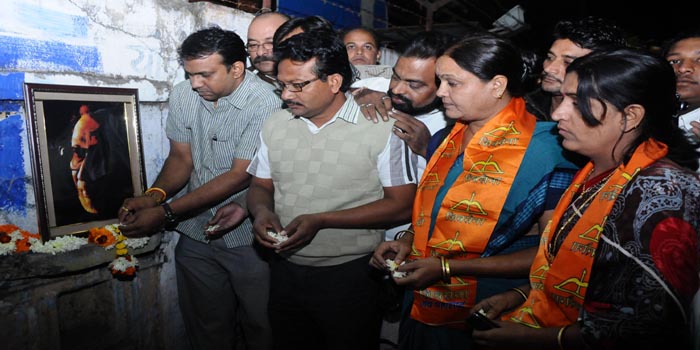 Nagpur City Shiv Sainiks paid  tribute to their beloved " Saheb ".
Pall of gloom envelops Shiv Sena cadres after Bal Thackeray's death
With the news of Shiv Sena patriarch Bal Thackeray's death spreading like a wildfire across the city, party leaders are seen struggling to keep in check the emotions that are running high among the cadres.
Subhash Kotecha,Vice President, Bhatiya Janta Party,Nagpur also paid his tribute to Balasaheb
Expressing his condolence, Kotecha said that Thackeray was the man of substance referred to as "Tiger" in Indian political circles for his clear cut expression. Whatever he spoke, his expression was fearless and without any apprehension. He never turned back on his words nor did he ever apologize. He preferred to clarify instead. The nation's "Hindu Samrat", the guard of Hindutva has left for heavenly abode. The strong pillar of BJP-Shiv Sena coalition has gone. "Such an imminent personality won't take birth too often. My heartfelt last regards to the brave soul," Kotecha said
MG Vaidya, C'garh CM Raman Singh mourns demise of Thackeray
Chief Minister of Chhattisgarh Dr. Raman Singh who was in Nagpur on Saturday and senior leader of Rashtriya Swayamsevak Sangh (RSS) M G Vaidya expressed their condolence over the sad demise of Shiv Sena supremo Balasaheb Thackeray who passed away in Mumbai following the cardiac arrest.
Expressing grief over the departed soul, Raman Singh said that he salute the perseverance of Thackeray and the courage with which he coped up with his illness even in his last days. "He treaded the path of polity with genuine purpose. He was a bold leader and reflected a different perspective of politics. His demise is a serious loss to the nation", Raman Singh added.
Senior RSS leader M G Vaidya said that a brave leader has left the world causing irreparable loss to the nation. He said, "Such leaders are very rare whose every word is followed in letter and spirit by countless number of people. His thoughts were loud and clear. He was proud of being Marathi and proud of Hindutva. I would say the nation is proud of him. And passing away of such an efficient leader would always be missed. His thoughts would continue to inspire the nation."