Nagpur City Congress pays homage to Mahatma Gandhi on his 146th birth anniversary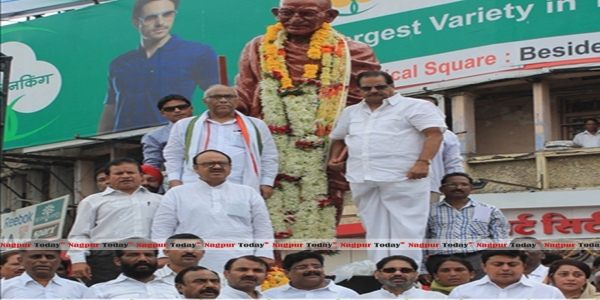 Nagpur: Congress leaders on Friday remembered Mahatma Gandhi on his 146th birth anniversary in Nagpur . On this occasion, city congress president Vikas Thakery and other leaders paid 
floral tribute at his memorial in Variety square.
Former Minister, Vilas Muttemwar, Rajendra Mulak, Former minister Satish Chaturvedi, Adv. Abhijeet Wanjari, Dr. Nitin Raut, Umakant Agnihotri were among those who also paid homage to the Father of the Nation.
An all-religion prayer was conducted during the ceremony. The favourite hymns of Gandhi were also played on the occasion. A masive rally was also conducted during this occasion by city schools and number of school children participated in the rally and dressed up like Mahatma Gandhi to pay innocent tribute to Gandhiji apart from this some social organisation also celebrated Gandhi Jayanti and paid tributes to Mahatma Gandhi.