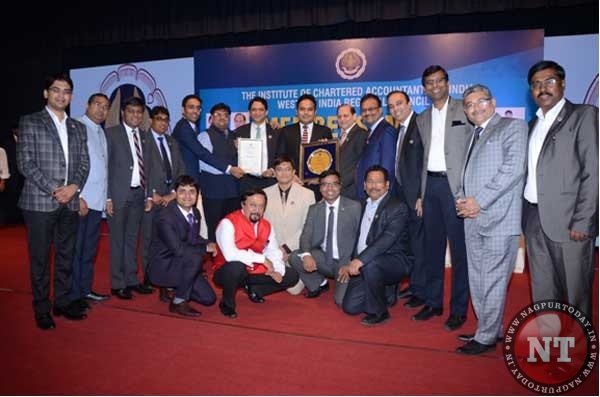 Nagpur: The Nagpur branch of Western India Regional Council of The Institute of Chartered Accountants of India was awarded as Best Branch of Western Region amongst 35 branches of WIRC of ICAI. The award was distributed by Vice President, ICAI CA. Prafulla Chajjed at Mumbai. This glittering function was held in the presence of CA.
Sandeep KC Jain, Chairman WIRC & CA. Priyam Shah, Vice Chairman WIRC was held Y B Chavhan Auditorium, Mumbai and was attended by large number of Chartered Accountants from all over the Western Region. WICASA Nagpur was also adjudged as the Second Best Students Association. Nagpur branch has received both the awards for the year 2017-18.
During the year 2017-18 under the Chairmanship of CA. Sandeep Jotwani the Branch organised about 485 programmes successfully. The Branch has organised various Seminars, Lecture Meets, Conferences, Workshops, Training programmes, Remodeled & Redesigned Study Circle "Samvaad", Intensive Study Courses, Certificate Courses and Interactive Meeting concentrating on practical exposure and expertise for the members. A host of academic programmes were organised with focus on emerging areas of practice, knowledge enhancing and professional enrichment.
On the social responsibility front Nagpur Branch of ICAI has organised Eye Check up Camp, Blood Donation Camp & Tree Plantation during the year. A visit to orphanage was organised to distribute stationary and school kits to needy and less privileged students of the society was among the initiatives undertaken during the year.
Nagpur Branch organized various programs that enhanced the image of profession amongst society and also made public aware about various taxation provisions. Major programs were Public Meet on budget, discussions on union and state budget, programs for cooperative sector, various career counseling programs, no. of press meets to inform about ICAI policies. In addition to these members of ICAI Nagpur are regularly writing informative columns in newspapers and giving interviews in telemedia. Regular interactive meets are held with Income Tax, GST authorities to convey them hardships faced by practitioners and assesses.
Reacting to the award CA. Sandeep Jotwani, Immediate Past Chairman said that the plethora of activities undertaken successfully by the Nagpur Branch was a result of team work as well as motivation, support & co-operation from all the members & students throughout the year which was duly recognized by the Institute & resulted in further enhancement of the brand building of ICAI. He thanked Past President, ICAI CA. Ashok Chandak & CA. Jaydeep Shah, CA. Abhijit Kelkar, RCM, CA. Julfesh Shah, all Past Chairmen of Nagpur Branch, all senior members for their guidance & Managing Committee Members for their active support during the year. He also thanked all the agencies, staff members of branch & specifically press and media for their support in bringing these laurels to Nagpur Branch.
CA. Umang V Agrawal, Chairman complimented the work done by the predecessor Chairman in the year 2017-18 and congratulated the entire team for the accolades received by the Branch at National & Regional Levels. He further thanked all the members and students for their active support and encouragement throughout the year. He also assured that the current year shall again be an eventful one with host of activities being organized by the Branch for Members & Students throughout the year.