Nagpur all set for the Senior Nationals Badminton Championship 2017


Nagpur: The 82nd Senior Nationals Badminton Championship, under the auspices of the Badminton Association of India (BAI), will be hosted by Maharashtra Badminton Association (MBA) in Nagpur from tomorrow.
The Senior National Championship will be held after 25 years in the Orange City from 2nd November – 8th November, 2017 at the Divisional Sports Complex, Mankapur. The total prize money announced by Badminton Association of India (BAI) for the event is Rs. 60 lakhs – the highest ever in the history of the Senior Nationals. The Championship will be broadcasted live on Doordarshan and All India Radio.
The preparation for the mega event is completed and the city is all geared up to welcome more than 450 players from 29 states and 2 union territories. Dr. Himanta Biswa Sarma, President – BAI, in his vision and quest to make India a world superpower of badminton by the next Olympic Games, has ensured top player participation in the domestic circuit. The championship will see top Indian shuttlers like P.V. Sindhu, Saina Nehwal, Srikanth Kidambi, Ashwini Ponnappa, HS Prannoy and Ajay Jayaram battle it out to gain top billing.
Below are the prize money details announced by BAI.
Mens & Womens Singles
Doubles Pair
Team Events
Pre Quarter Finalists
Rs. 50,000/-
Quarter Finalists
Rs. 75,000/-
Semi Finalists
Rs. 1,00,000/-
Quarter Finalists
Rs. 75,000/-
Semi Finalists
Rs. 1,00,000/-
Runner Up
Rs. 3,00,000/-
Semi Finalists
Rs. 1,00,000/-
Runner Up
Rs. 1,50,000/-
Champions
Rs. 5,00,000/-
Runner Up
Rs. 1,50,000/-
Winner
Rs. 2,00,000/-
Winner
Rs. 2,00,000/-
Arun Lakhani, President, Maharashtra Badminton Association said, "We are delighted to be hosting the 82nd Senior Nationals Badminton Championship in Nagpur and thank BAI President Dr. Sarma, for bestowing this honor to us. The Orange City is all set for badminton's biggest annual event and it's a huge opportunity for fans to watch their favorite players in action. Many Indian players in top 50 of the Badminton World Federation (BWF) rankings will be participating. The Mankapur Sports Complex is ready for this mega event as we want the fans and the players to have a first-of-its-kind world class experience. With 5 events (Men's & Women's Singles, Men's & Women's Doubles and Mix Doubles) and team championship, I am sure this will be a treat to watch", he added.
The Maharashtra Badminton Association will also felicitate two veterans Mr. Pradeep Gande and Mr. C D. Deoras for their immense contribution in the field of badminton in the state of Maharashtra.
The players who have got direct entry into the pre quarter finals and quarter finals are:
Direct entry into Pre quarter Finals
Men's Single
Women's Single
Kidambi Srikanth
Pusarla V. Sindhu
Prannoy H. S.
Saina Nehwal
Sai Praneeth B.
Rituparna DAS
Sameer Verma
Anura Prabhudesai
Ajay Jayaram
Sourabh Verma
Parupalli Kashyap
Danial Farid
Direct entry into quarter finals
Men's Double
Women's Double
Mixed Double
Satwiksairaj Rankireddy / Chirag Shetty
Ashwini Ponnappa / Rddy N. Sikki
Pranaav Jerry Chopra / Reddy N. Sikki
Manu Attri / Reddy B. Sumeeth
Sanjana Santosh / Arathi Sara Sunil
Reddy B. Sumeeth / Ashwini Ponnappa
Arjun M.R./ Ramchandran Shlok
Jakkampudi Meghana / S Ram Poorvisha
Top Pair from latest BAI ranking
Top Pair from latest BAI ranking
Top Pair from latest BAI ranking
Second Top Pair from latest BAI ranking
The rousing action will kick-start on 2nd November, 2017 with an extravagant Opening Ceremony and the Grand Finale will take place on 8th November, 2017. From 2nd of November till the finals 22,000 school kids from Nagpur will also witness the actions live in the Divisional sports complex. While Indian badminton players are engraving their names across the world, the Senior National Championship will bring together India's top badminton players wherein they will showcase high-class action in front of sports lovers.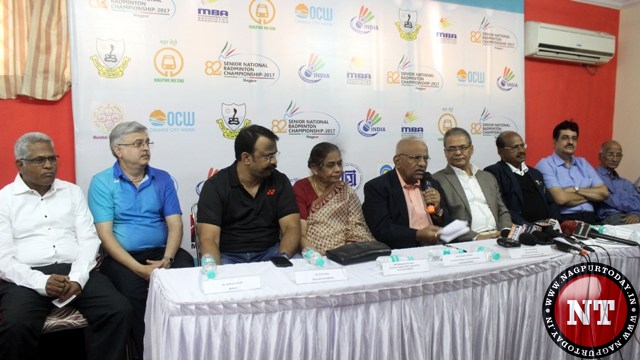 About Badminton Association of India (BAI)
Formed in 1934 in New Delhi, Badminton Association of India (BAI) in New Delhi is the governing body for Badminton in India, and along with its 33 State Associations and 5 affiliated organizations. BAI has been holding national-level tournaments in India since 1936.
About Maharashtra Badminton Association
Maharashtra Badminton Association (MBA) is the official state association for badminton accredited by Badminton Association of India. The MBA in Maharashtra organizes a total of 19 to 20 state tournaments including Sub. Junior, Junior, Senior & Veterans State Championships annually for the past 15 years. Other than the above Selection Tournaments, MBA organizes around 8 to 10 Tournaments including State Open, All India Ranking Tournaments, International Challenge Tournaments, Invitational Tournaments, Weekend Tournaments, Maharashtra Badminton League etc.
MBA has been sending talented youngsters from Maharashtra for Advance Badminton. Training Abroad to countries such as Malaysia, Indonesia every year (for the past 4 years) bearing all expenses. MBA has been the 1st state in our country to introduce Mediclaim Insurance for players a few years ago.