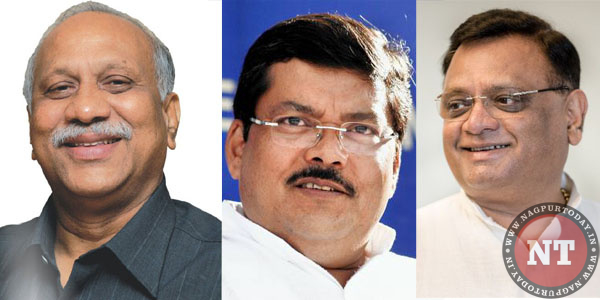 Nagpur: Senior Congress leaders Vilas Muttemwar, Mukul Wasnik and Avinash Pande from Nagpur would be attending the 3-day AICC Plenary Session as Special Invitees. The Plenary Session of Indian National Congress is being organised from March 18 at the sprawling Indira Gandhi Indoor Stadium, New Delhi.
Muttemwar, Wasnik and Pande are also attending the meeting of Subject Committee being held on March 16 at Speaker Hall, Constitution Club in the national capital. The meeting is chaired by Congress President Rahul Gandhi. Sonia Gandhi, Chairperson, CPP and Dr Manmohan Singh, former Prime Minister are also attending the meeting among host of other senior party leaders as Members of Steering Committee.
The Congress President Rahul Gandhi has constituted the Organising Committee, the Drafting Committee, and its four Sub-Groups and a Constitution Amendment Committee for the forthcoming Plenary Session of AICC.
The Organising Committee is headed by Motilal Vora as Chairman and Oscar Fernandes as Convenor. The Members of Organising Committee include all General Secretaries and In-charges of States.
Former Prime Minister Dr Manmohan Singh is Chairman of Drafting Committee while Mukul Wasnik is Convenor.
A K Antony is Chairman of Sub Group: Political and Kumari Selja is Convenor. The Sub-Group: Economic Affairs is headed by P Chidambaram as Chairman while Jairam Ramesh is Convenor. Anand Sharma and Jyotiraditya Scindia are Chairman and Convenor respectively of Sub Group: International Affairs. The Sub-Group: Agriculture, Employment and Poverty Alleviation is headed by Bhupinder Singh Hooda. Meenakshi Natarajan is Convenor. Ghulam Nabi Azad is Chairman of Constitution Amendment Committee and the Convenor is Janardan Dwivedi.
During the 3-day AICC Plenary Session, the party is expected to draw a strategy and next course of action in view of 2019 Lok Sabha elections.
Click Here to see list : Special Invitees