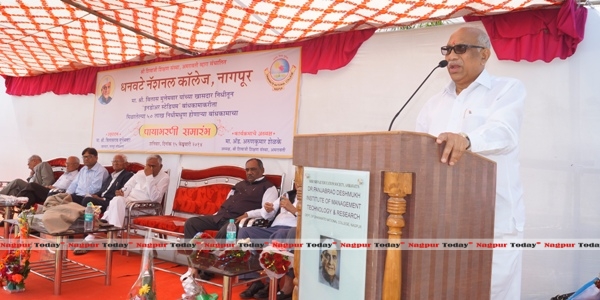 Nagpur News.
The Nagpur MP Vilas Muttemwar on Saturday (February 15) laid the foundation stone for a very modern and hi-tech Indoor Stadium to be built at Dhanwate National College at the cost of Rs 1.68 crore out of which Rs 50 lakh have been given by Muttemwar from his MP Fund.
The modern Indoor Stadium will house 3 latest Badminton Wooden Courts, (also available for Kabaddi, Volleyball, Judo, Wrestling or other sports), 2 Table Tennis Courts, space for Office of Sports Department, Changing Room, Stage and other facilities. The Indoor Stadium will be built at the cost of Rs 1.68 crore out of which Rs 70 lakh have been sanctioned by the University Grants Commission (UGC) and Vilas Muttemwar has contributed Rs 50 lakh from his MP Fund.
The programme began by paying floral tributes to the portrait of Shikshan Maharshi Dr Panjabrao Deshmukh. The introductory speech was delivered by the Principal of Dhanwate National College Dr Babanrao Taywade. He thanked Muttemwar for his generous assistance of Rs 50 lakh for the Indoor Stadium.
Vilas Muttemwar, in his inaugural speech, said the Indoor Stadium in Dhanwate National College, which is located at the center of the city, will be beneficial for many sportspersons. "The College not only provides education to students, specifically to downtrodden students, but also plays an important role in all the fields. The College has been creating excellent sportspersons by providing them modern facilities. And for this excellence, the Principal Dr Babanrao Taywade deserves accolades," Muttemwar said.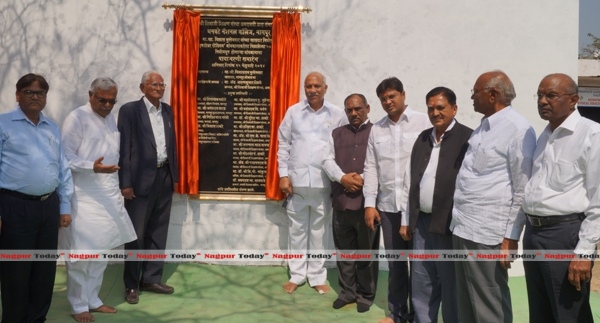 The function was presided over by Vice-President of Shri Shivaji Shikshan Sanstha, Amravati, Vasantrao Charjan. In his presidential speech, Charjan recalled outstanding contribution of Dr Bhausaheb Deshmukh in the sports field. "The Shri Shivaji Shikshan Sanstha has been taking ahead the work of Dr Deshmukh. The organization of Shivaji Olympiad was part of the same efforts," Charjan said.
Others who graced the programme include NIT Trusty Anantrao Gharad, Khushalrao Gedam, Tale, Wankhede, Balasaheb Sapkal, Vishal Muttemwar, Dr Devendra Burghate, and others.
The function was conducted by Dr M S Wankhede while Dr Devendra Wankhede proposed a vote of thanks. The programme was also attended by life members, teachers, employees, students and others in large number.