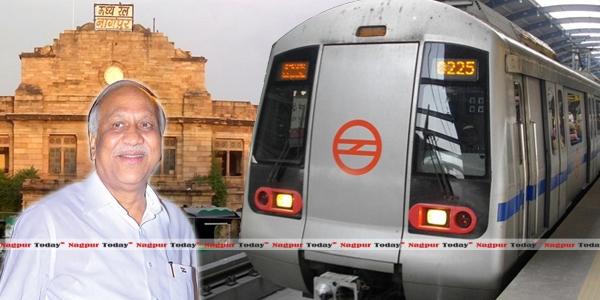 Nagpur News.
Elevating the hopes of Nagpur to be known as the world class city, the State Cabinet on Wednesday gave its much awaited nod to the city's highly ambitious Metro Rail Project. With this decision, the 40 kms long project is expected to be completed by 2019. As the project gets cabinet's nod it will be sent to the central government for approval.
Nagpur MP Vilas Muttemwar who had been making continuous efforts to push the project for more than a decade appeared a cheered man on Wednesday as the news reached him. Welcoming the decision, Muttemwar expressed confidence of getting the necessary approvals at the earliest and speed up the project.
To move the project further city administration initially collaborated with Delhi Metro Railway Corporation on February 22, 2012, which followed series of inspection and survey works done by the experts.
With a view to make metro accessible to citizens across all the areas, the proposed metro trains will run from north to south starting from Kamptee Automotive Square to Mihan and East to West, beginning from Prajapati Nagar to Hingna Road. Experts have estimated an investment of Rs 9007 crore however, the budget has now been drawn at Rs 8350 crore. The metro depot will be situated at Mihan and authorities have expressed their willingness to establish other depots on Hingna Road, Lashkar and Airport.
Talking to Nagpur Today MP Vilas Muttemwar said, "We are very thankful to the state government, especially Chief Minister and other concerned cabinet members for approving the project. The people of Nagpur will be very happy with this decision. However the process has been delayed but it is a welcome sign as it was a long pending demand of people of Nagpur and this is a positive step towards fulfillment of that demand."
He added, "I have been continuously pursuing Nagpur Metro Rail Project since 2002 when I was Co-Chairman of Maharashtra Airport Development Authority (MADC). Then we had commissioned a techno economic feasibility report which was submitted by Larsen and Toubro (L&T). I am happy that the state government has finally granted formal sanction to the metro project. Now I will try my level best to get necessary approvals and financial sanction from the Urban Development Ministry at the Centre. The Nagpur Metro project is certainly a huge step towards making Nagpur a city of international stature."
What's Special with the Service
– Cheaper ticket rates as compare to New Delhi metros
–  Over 3 lakh citizens to benefit every day
– Metro train after every 6 minutes
– Three decks to metro
– No disruption to traffic on major roads or flyovers during construction of metro tracks
– A linking junction at Munje Square
– Will save commuting time
– Facility for passengers of one direction to change train for another route
– Hygienic facilities inside the train
Metro Route from North-South
Moving from city's northern areas to south part, metro train will cover a distance of 21.604 km and cross through Automotive Square, Nari Road, Indora, Kadbi Chowk, Gaddigodam, Kasturchand Park, Zero Miles, Sitabuldi, Congress Nagar, Rahate Colony, Neeri, Deo Nagar, Mayuresh Apartment, Shankar Nagar, old Airport, new airport, Mihan city, and metro city.
Metro Route from East-West
Covering the East to West region of the city, the metro will cover a distance of 18.206 km travelling through Prajapati Nagar, Vaishno Devi Square, Ambedkar Square, Telephone Exchange, Chitar Oli, Agrasen Square, Mayo Hospital, Nagpur Railway Station, Netaji Market, Jhansi Rani Square, Institute of Engineers, Bank of India (Shankar Nagar), Lad Apartment, Dharampeth Science College Square, Subhash Nagar, Rachna Apartment, Wasudev Nagar, Bansi Nagar, and Lokmanya Nagar.