Musical 'Buddha Pahat' on May 10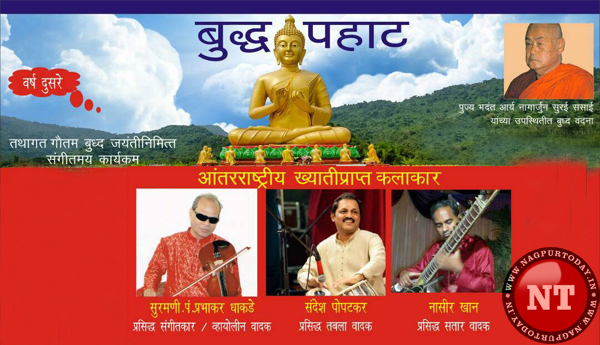 Nagpur: On the occasion of Buddha Pornima, Musical 'Buddha Pahat' has been organised in Budhha Nagar, Kamptee Road on May 10. The programme will start with 'Buddha Vandana' by Bhadant Arya Nagarjun Surai Sasai at 5.15 am. Noted violin player, Surmani Pandit Prabhakar Dhakade, Tabla player Sandesh Popatkar, Sitar player Nasir Khan will perform during the 'Buddha Pahat'.
This has been the second year, the residents of Buddha Nagar have organised the 'Buddha Pahat'. This year, Chhaya Wankhede-Gajbhiye will sing Buddha Vandana and Buddha songs. Mahanadan Wankhede, Maya Nagarkar, Akash Nagarkar, Sumedha Nagarkar, Urmila Wankhede, Chirag Wankhede, Megha Wankhede, Abhiruchi Deshmukh, Naresh Wahane, Rajan Waghmare and others have appealed people to attend and enjoy the the programme.