Mungantiwar invites Modi for tree planting function on July 1

The State has planned to plant over two crore saplings to increase green cover in Maharashtra.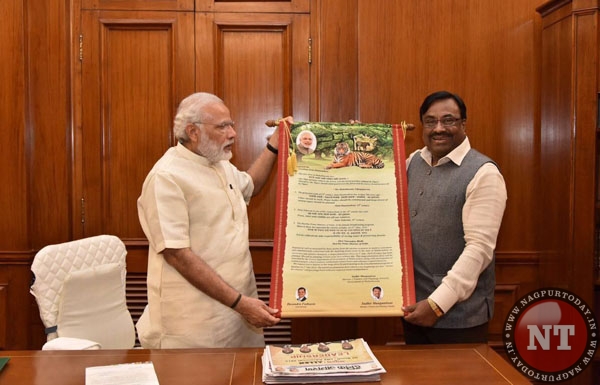 Nagpur: Maharashtra Minister for Forests and Environment Sudhir Mungantiwar on Wednesday met Prime Minister Narendra Modi in Delhi and invited him to attend the Maharashtra Government's programme organized to mark Agriculture Day and Van Mahotsav on July 1, 2016. The State has planned to plant over two crore saplings to increase green cover in Maharashtra.
The Prime Minister appreciated the venture and likened the tree planting to godly work. "Planting of trees is Godly work. The warkaris participating in Pandharpur Yatra every year should be distributed a sapling in the form of Prasad. Similarly, the Mahila Bachat Gats should be assigned the responsibility of planting tree at vacant places along tracks of local trains in Mumbai," suggested Modi to Mungantiwar during their meeting.
Mungantiwar, after meeting Modi, "Only 20 per cent land in Maharashtra is covered by forests, which is leading to adverse impact on environment. The government aims at changing the situation for better future by planting over 2 crore saplings on July 1 throughout the state with the help of various departments, district administrations, NGOs, industries and Railways."
"The survival rate of plants is around 75 per cent, but we shall see that it would go up to 85 per cent with the use of modern technology. I am confident that Maharashtra would be elevated to number one position with maximum forest cover in the country in next five years," he added.
Mungantiwar said Maharashtra accounts for 10 per cent of the rail network in the country and the Railways is set to plant 50 lakh saplings, though not as part of the two crore saplings plan.
Mungantiwar had convened a meeting on this subject recently and made this announcement there. The Minister told officials that planning was important to make the project successful. It was important to choose the right species of saplings for the right areas and a concrete plan should be ready to ensure that they survive.
The minister further said that the project should not be restricted to the government machinery. The forest department should seek the help of educational institutions, non-government organizations (NGOs), industrialists, artists, public representatives, students etc.
The minister said public representatives should promote the concept of 'selfie with tree' to make the project popular among citizens. More such innovative concepts were needed for success of the project, he said, adding that competitions should be held at district level for encouraging citizens to participate in plantation work. The government would also use religious discourses to explain the importance of trees to citizens. Increasing the forest cover will help in conserving wild animals and biodiversity, he said.