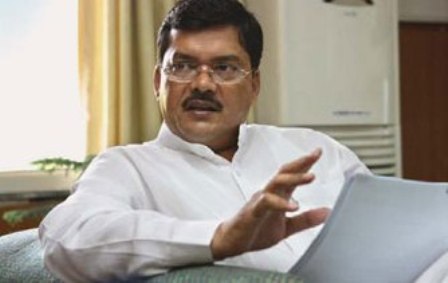 Mukul Wasnik deserted the Ramtek Lok Sabha constituency voters, workers and leaders who worked hard and made him Lok Sabha member but left them red-faced and sulking once he emerged victorious 4 years ago. Now, Wasnik is again likely to be Congress candidate but faces a daunting task to woo voters who are bitterly opposing his candidature.
Nagpur News: The political parties have started counting days for the D-Day (Lok Sabha election date). Situations on the front are changing fast. The battlefield of different ball game is getting ready for contests of all sorts. Strategies. Numbers. Alliances or Partners. The complicated Mathematics has started to hit calculators. And, finally, all political parties are in top gears to leave behind the rivals of each other in the most momentous race for power, and power only.
However, the citizens across the country are well aware of umpteen numbers of promises the leaders dangle before the voters including freebies like laptops, computers, mobiles, financial assistance for marriages of girls, and other alluring stuffs to woo the precious voters. The citizens, also, are well apprised of leaders turning their ugly back once they are elected in the elections. The voters, within moments, turn aliens for the leaders who were until campaigns begging for votes. The leaders treat the very voters as their "enemies" with disdain. The leaders change the colours like chameleons once they occupy the Lok Sabha seat.
The same scenario was witnessed by Ramtek Lok Sabha constituency voters almost four years ago. Mukul Wasnik, at present General Secretary of All India Congress Committee, emerged victorious by a narrow margin (16,701 votes as he defeated Shiv Sena's Krupal Tumane who garnered 294913 votes as against 311614 votes by Mukul Wasnik of Congress). However, according to traditional Congress voters themselves, Wasnik turned his face towards another direction thus deserting the same workers, local leaders and money spenders who worked hard for his victory. The "turn back" episode continued for almost 4 years.
However, the Congress High Command, sensing the Lok Sabha elections, has directed all the party MPs to get activated in their respective constituencies. The directive by Congress High Command was just enough for Mukul Wasnik develop cold feet as he was "forced" to go to same very voters, workers and leaders who were deserted by him four years ago. Now, one finds Mukul Wasnik knocking the doors of voters, the sulking workers and leaders in order to woo them and forget the bitter past and elect him a Lok Sabha member again from the Ramtek seat. The Ramtek seat is in Nagpur district.
It may be recalled, Mukul Wasnik in the earlier Lok Sabha polls, was Congress candidate for Buldana constituency. But the die-hard egoistic attitude cost him dearly as he tasted defeats for the very same reason. However, the reservavtion of Ramtek constituency for an SC candidate turned a boon for him and he turned all tables to get the Congress ticket for the Ramtek seat. And succeeded, too.
Nagpur district is stronghold of Kedar-Deshmukh families and whichever candidate contest elections against their wishes, no candidate has emerged victorious. And according to a well-planned strategy, Mukul Wasnik first surrendered to the Kedar-Deshmukh families. He then approached Sulekha Kumbahre whose Adivasi organization has blessings of Shibu Soren, the former Chief Minister of Jharkhand who is life-size leader of Adivasis. Wasnik personally talked to Shibu Soren and, reportedly, gave Rs 4 lakh to his activists to monitor activities of Kumbhare. Wasnik then sent his confidant MLA to the residence of a minority leader in Kamptee who is also supporter of Sulekha Kumbahre. The minority leader also promised to support Wasnik.
A Congress leader from Kanhan Naresh Barve, who was heaped insult by Mukul Wasnik during last election campaign in Barve's own office, was forced to forget the past by a Wasnik's close aide. Similarly, Wasnik carved out an understanding between him and former Kamptee MLA Yadavrao Bhoyar and Hukumchand Siriah. And with support of Munna Ojha from Deolapar, MLA Jaiwsal, NCP leader Sinu Viyanwar, LIC Agents Association, CPI, a BJP leader from Dahegaon Rangari, Wasnik was benefited to some extent.
However, no one among the leaders, was sympathizer of Congress or Wasnik. All were directly or indirectly were close to a confidant of Wasnik. If one were to deduct votes of all these leaders, the Wasnik would have lost the elections by at least 25,000-50,000 votes. At that election campaign Wasnik had traversed more than 700 villages or towns under the Ramtek constituency. An unemployed youth on his own money saw that Wasnik grabbed the space in newspapers by collecting all reports during the campaign.
However, once the election result was announced, Wasnik went to vote counting centre and accepted greetings from voters. He then immediately proceeded towards his residence. An the second day, he was Delhi-bound. After returning to Nagpur a few days later, Wasnik threw a grand party at Shakti Offset premises but invited those Congress leaders and workers who never worked for him for his victory in the election thus leaving the hard workers and leaders red-faced.
After the elections and emerging victorious, either Wasnik turned an alien species or the very same voters, Congress workers, leaders turned "enemies" as Wasnik became a leader beyond reach of anybody except for some very close aides. He only honoured Gawande couple, Deepak Katole, Jayant Dalwi, and others. Kedar, who fully supported and threw all his strength behind Wasnik for making him victorious from the Ramtek seat, was left sulking and angry when Wasnik approved Mulak's name for ministership.
Now, Mukul Wasnik has become active as per the directives of Congress High Command and is running from one corner to another to woo voters, workers and local leaders. This time he striving hard to fulfill the promises he had made to the Congressmen either from Nagpur or Delhi. Mukul Wasnik is now providing a golden opportunity, albeit, helplessly, to Ramtek voters, workers and leaders to get their beneficial works done. The Ramtek men and women are very well aware of the fact that this is the proper time to derive maximum benefits from Wasnik. Once elections are over and Wasnik emerges victorious, then he will vanish from the scene till the next elections. This is Wasnik's die-hard attitude to desert people once his job is done. "He was born with a silver foot in his mouth."