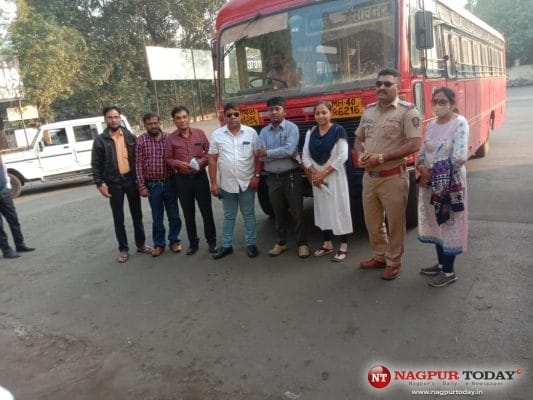 Nagpur: With more employees and workers joining the duty, Maharashtra State Road Transport Corporation (MSRTC) operated eight buses from Ganeshpeth Main Bus Station here to different places in Nagpur district and one for Bhandara on Tuesday. The buses made 26 trips from morning to evening. It started limited services yesterday by plying two buses from Nagpur to Saoner.
According to reliable sources, 8 ST buses left Nagpur for Katol, Ramtek, Saoner, Kalmeshwar, Umrer and Bhandara after 10.30 am as over 20 drivers/conductors and workers resumed the duty, despite on-going indefinite strike by the other ST employees all over Maharashtra.
The passengers from rural areas, especially students are suffering lot of hardships due to absence of ST buses for the last over one month. The ST authorities want to motivate the people and hence they are starting buses to places of depots so that further journey can be taken by the people such as from Umrer to Sirsi. The authorities have appealed to the employees to join the duties at earliest possible to reduce hardships of the passengers, sources added.
About 15 students boarded ST bus from Katol on Tuesday. The students from other places will start using ST buses from tomorrow to reach to the school and come back soon. The authorities have made it compulsory for passengers to wear masks in view of coronavirus. They have already done anti-bacterial quoting to the buses after lockdown, they said.
Nilesh Belsare, Divisional Controller, MSRTC, Nagpur, Police Inspector Kshirsagar from Ganeshpeth Police Station, Tanuja Kalmesh, District Traffic Officer, Rajesh Dachewar, Abhay Bobde, both Assistant Traffic Superintendents, and others were present while leving the buses in the morning.