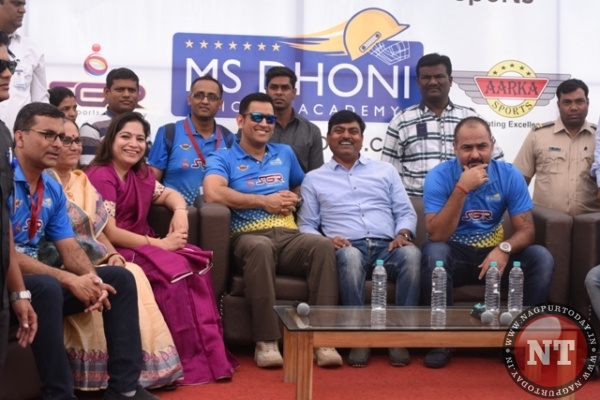 Nagpur: Former Indian Captain Mahendra Singh Dhoni today inaugurated his cricket academy in City at the ground of International School at Dongargaon, around 15 kms from the city. The legendary cricketer, who is regarded as one of the world's best finishers of the game of all time, has already launched branches of his academy in various cities. Boys and girls in the age group of 7 to 19 years will get world class coaching from the experts.
Nagpur based SGR Sports Academy has joined hands with MS Dhoni Cricket Academy to start the residential cricket academy in September.
Announcing the launch of MS Dhoni Cricket Academy, managing director Mihir Diwakar, also a former India Under-19 and Bihar cricketer, said the entire coaching plan has been designed by Dhoni and he will also spare some time from his busy schedule to visit the residential cricket academy to share his experience with the budding cricketers frequently.
Diwakar, a former medium pacer, said it will be the fifth centre of Dhoni Academy in India. The Dubai franchise of Dhoni Academy has also been launched recently. "We have already started at Lucknow, Varanasi, Noida and Bokara but this will be the first residential academy. The trainees of the academy will study at the Gaikwad-Patil School and stay in their premises. We are looking to get admission of around 150 kids," said Diwakar while addressing a press conference on Monday.
Diwakar, who has played with Dhoni for many years, said they will make sure everything is in order before starting coaching programme for the youngsters.
Pics by : Rajesh Bansod