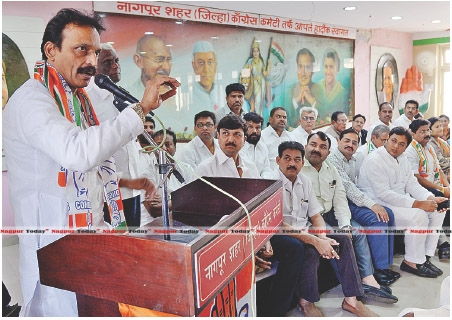 Nagpur News :  Resolving to return to power after 2014 general elections under the leadership of party president Sonia Gandhi and and vice-president Rahul Gandhi, observer for the Nagpur parliamentary constituency Jagtap while speaking at Devadia Congress Bhavan here appealed to party men to brace up for campaigning.
He also asked party workers to shun the desire for obtaining posts and rather work for the party. Jagtap said that he had been sent on a special mission to Nagpur and detailed report of happenings in the city would be sent to the party high command for the next three months.
Without mincing words Jagtap clearly told party workers that factionism would not be tolerated. Jagtap along with Sunita Lodha the second observer for Nagpur on Thursday reviewed pollcampaign work underway in North, East and Central Nagpur.
Review meeting with workers and office-bearers of East Nagpur area was held at office of former guardian minister Satish Chaturvedi, while two other meetings with office- bearers and workers of Central and North Nagpur were held at Devadia Congress Bhavan.
Most of the prominent Congress leaders including Satish Chaturvedi and city Congress president Vikas Thakre were present during the meetings.