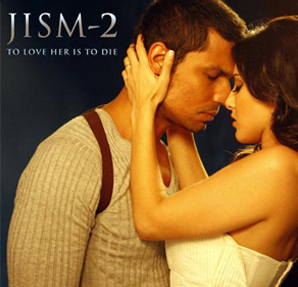 Jism 2 is the story of Izna (Sunny Leone), a porn star who is hired by intelligence agency officers Ayaan (Arunoday Singh) and his boss (Arif Zakaria) to enter Kabir Wilson's (Randeep Hooda) life. Incidentally, Kabir, a rogue cop, also happens to be Izna's ex-flame who walked out on her five years ago without a word. Izna agrees to help, but has her own agenda too.
Ayaan and Izna pose as a couple and move into the house opposite Kabir's. They are in search for some crucial data that's stored in Kabir's laptop. The hunt for the information, Izna's dilemma over her first love and a few erotic sequences form the rest of the story.
The sex influenced film has a plot all right, but Mahesh Bhatt's clichéd story is filled with loopholes. The story just seems like an excuse for Sunny Leone's skin show. It's bizarre that an intelligence agency hires a porn star to extract information – wonder what happened to female special agents! Fine, she is hired because she shares a past with Kabir, but you wonder how they didn't do their homework prior to beginning the mission.
Look what the Bhatts have done. They have just beaten everyone in Bollywood – Aamir Khan included – in the game of clever marketing. Jism 2, more than a film, is a brainwork marvel at hardselling a porn star as B-Town's latest sex bomb. If hype over style and substance has become the mantra to ensure first-weekend spoils, Pooja has played her Sunny card well. The PR frenzy around the debutante sets a new yardstick for film marketing.
It's a con job, but it is guarantee a hit. Everyone is exited to watch Jism 2. Everyone will come out realising the film actually had nothing to watch (unless you count Sunny whose wardrobe stays at see-level at all times, no matter what the mood of a scene is).
When all that has to be seen is shown, there's nothing sexy left in it. Being a woman, Pooja Bhatt should have known that better. There's a vast difference between being erotic and erratic.
For the record, the credit for the story goes to Mahesh Bhatt. Till the end, you are wondering what the story is. It goes like this. Izna (Sunny Leone making her debut) is a prostitute. She is asked to help the Intelligence Bureau to kill one of their own officers, Randeep Hooda, who has gone on a killing spree within his department.
The reason she has been selected is because at one point in time, she was his lover. I'm not even getting into the screenplay of that episode, of how they meet and how they mate! It's hilarious.
The script sets up sexual jealousy, and to that extent Sunny was aptly cast. She doesn't have to try too hard to play the porn star Izna – bursting oomph from every pore though revealing little life while emoting.
A cop (Arunoday) is assigned to use Izna as a honeytrap to bait a killer (Randeep), incidentally Izna's onetime lover. Old sparks are ignited as the girl sets about doing her job. The cop, naturally, goes green with rage.
If Sunny can't act, hulky Arunoday overacts (a scene where he yells right into the face of his senior reminded me of King Kong). Randeep speaks in shayari fits. A long pensive burst sees Sunny reacting: "What do you mean?" Inadvertently, that's our exact thoughts.
The music of Jism 2 is soothing to the ear. Vicky Goswami, Arko Pravo Mukherjee and Mithoon Sharma have done a splendid job.
Jism 2 is all sex and no story, but it's not really a porn film either. The movie doesn't disappoint, if you've come to watch Sunny strip!
Suhani Vanjani