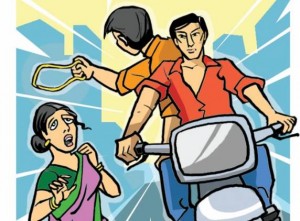 Nagpur News.
Motorcycle-borne chain-snatchers relieved an elderly woman of her gold chain worth Rs 40,000 on Monday night. The incident took place under the jurisdiction of Pratap Nagar Police Station near Sneh Nagar Bus Stop, Chhatrapatti Square Flyover.
The complainant Asha Pramod Chinchgalatpure (55), is a resident of Plot No. N/8, Mulik Complex, Airport, Sonegaon. On Monday, at around 5.45 pm, Asha was heading towards her house after finishing her office on Activa moped (MH 31 DR 2276). Two unidentified youths came from rear at the flyover; and snatched away her gold chain worth Rs 40,000 and zoomed past her on their bike.
On the complaint of Asha, Pratap Nagar registered a case of chain-snatching under Section 392 of the IPC.