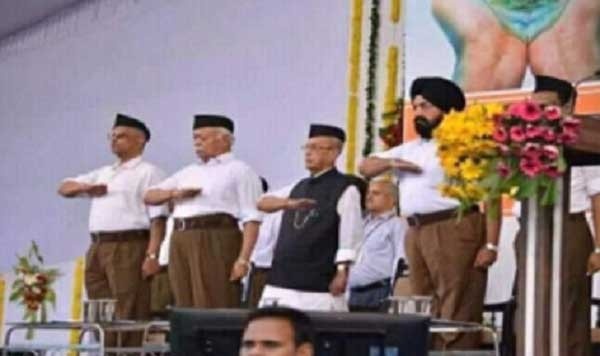 New Delhi: Congress leader Sharmistha Mukherjee hit out at Bharatiya Janata Party (BJP) and Rashtriya Swayamsweak Sangh (RSS) after a morphed picture of Pranab Mukherjee, raising his hand in salutation like the RSS leaders and cadres was circulated on social media the former president attended a RSS event in Nagpur. Responding to a tweet, showing the morphed picture of Mukherjee, his daughter said,"See, this is exactly what I was fearing and warned my father about. Not even few hours have passed, but BJP/RSS dirty tricks dept is at work in full swing!"
Notably, Sharmistha Mukherjee was vehemently opposed to the former president visiting the RSS headquarters and took to Twitter yesterday to express her disapproval of it.Earlier on Wednesday, Sharmistha Mukherjee had said her father was giving the BJP and the Sangh a handle to plant false stories.
"Hope @CitiznMukherjee now realises from todays' incident, how BJP dirty tricks dept operates. Even RSS wouldn't believe that you are going to endorse its views in your speech. But the speech will be forgotten, visuals will remain and those will be circulated with fake statements," she had tweeted, before Pranab Mukherjee's Nagpur visit.
On Thursday, while addressing the RSS cadres at the Tritiya Varsh Varg' event, Mukherjee spoke on the concepts of nation, nationalism and patriotism in the context of India, at the RSS event in Nagpur.
"We accept and respect our pluralism and celebrate our diversity. Our national identity has emerged after a long drawn process of confluence and assimilation, the multiple cultures and faiths make us special and tolerant. Nation is defined as a large group of people sharing the same language, heritage. Nationalism is defined as identification oneself with one's own nation. Patriotism is defined as devotion to one's own country. We derive our strength from tolerance. We respect our pluralism. We celebrate our diversity," the former president had said.
Furthermore, he asserted,"Intolerance will only dilute our national identity. Any attempt to define our nation through religion, dogma or intolerance will only fade our existence."