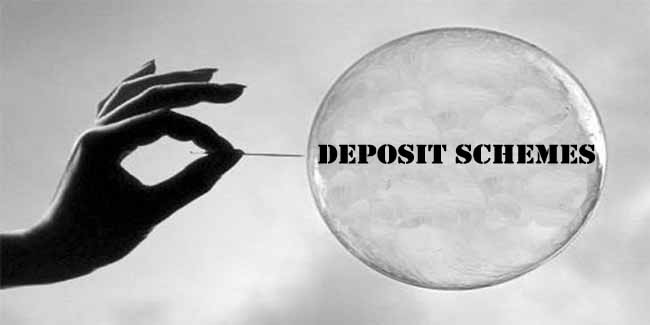 Nagpur News.
Trouble seems to be spelling wide against Wasankar Wealth Management in Nagpur given the recent Supreme Court's directive to bust unauthorized and illegal deposit schemes operating to lure gullible investors. The Supreme Court has recently issued notice to the Centre, RBI and market regulator to clamp down on the operatives of these masterminds behind collective investment schemes and also prosecute such violators.
The Apex Court issued the notice in connection with the public-interest litigation seeking directions for the recovery of the money mobilised by unauthorised and illegal schemes so that the same could be returned to the investors.
Given the court's ruling, demands are pouring in from local investors to check on Wasankar who has been mired into controversy for defaulting on paying up to its investors.
The notice was also issued to the ministry of corporate affairs, Serious Fraud Investigation Office and the Directorate of Enforcement.
The court's notice came on the PIL petition by NGO Humanity which said: "The menace of Ponzi schemes has shaken the very foundation of rural and semi urban economy in India.
"The problem of innocent poor people being robbed of their last savings by greedy, well-organised outfits has remained a fact of life in other parts of country as well."
Seeking making access to banking facilities a "legal right", the PIL that was addressed to the court by counsel Prashant Bhushan said: "Recently big frauds like Sahara scam, Saradha scam etc. have come to light, but they are only the tip of the iceberg.
"The problem of unscrupulous companies collecting deposits from crores of poor people, in violation of guidelines issued by the RBI and the SEBI, has reached menacing proportions and no effective action is being taken."
The PIL urged the court to direct the Reserve Bank of India that banking services are available to people in rural and semi-rural areas by "opening more rural branches, increasing the use of technology to access the less affluent depositors, by lowering the 'know your customer' (KYC) norms, having lower minimum deposit thresholds, mobile vans and other such measures".
Seeking setting up of an independent expert body with requisite powers of investigation, prosecution and recovery of money and that would also look into complaints on financial frauds, the PIL sought an investigation by the Central Bureau of Investigation (CBI) into the large-scale financial fraud, including the Saradha scandal.
The PIL said that all these companies, unauthorisedly collecting savings of small depositors, are in breach of the Company Deposit Rules 1975 which prohibits their operations which are unsecured.
– Rajeev Kushwaha ( rajeev.nagpurtoday@gmail.com )