Nagpur: After a prolonged dry spell, Nagpur experienced a dramatic change in weather on Sunday afternoon as heavy rain accompanied by a thunderstorm swept through the city. While the downpour provided much-needed relief from the oppressive heat and humidity, it also left a trail of destruction, with 16 vehicles and three houses sustaining damage due to fallen trees and branches.
The sudden shift in weather occurred on Sunday afternoon when the rain began around 3.30 pm. The downpour, coupled with thunder and lightning, persisted for an hour, bringing both relief and disruption to the residents of Nagpur.
According to the Fire and Emergency Services Department of Nagpur Municipal Corporation (NMC), their helpline started receiving distress calls at approximately 4.20 pm. These calls reported incidents of fallen trees and branches at more than 20 locations across the city. The emergency response teams were promptly dispatched to assess and address the situation.
The heavy rain and strong winds caused numerous trees and branches to fall, leading to substantial property damage. A total of 16 vehicles were reported damaged as trees and branches landed on them. Additionally, three houses suffered varying degrees of damage due to the impact of falling debris.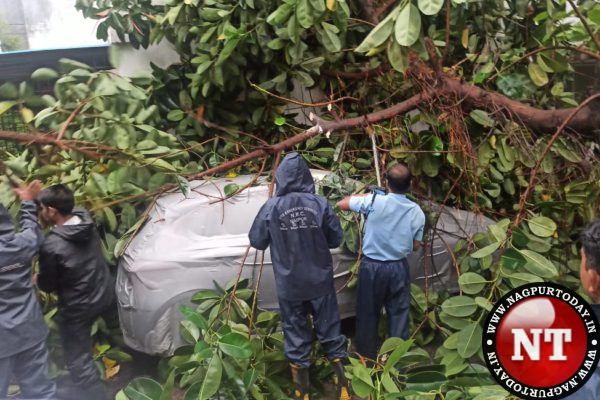 A big tree crashed on the houses at Ujjwal Nagar, Wardha Road. The compound wall caved in but nobody was injured. A team from the fire and emergency services department rushed to the spot and removed the tree. One car and two-wheelers were damaged.
At Cotton Market area, a tree branch crashed on the houses of Amar Kone and Ajit Gote damaging the tin roof to some extent. Another tree fell on a house at Nawabpura in Cotton Market area.
As per fire department's data, nine cars and four two-wheelers were damaged at Vithoba Apartment at Swawlambi Nagar, Ujjwal Nagar on Wardha road, Samyak Bauddh Vihar at Narendra Nagar, Ratan Complex in Mahal, behind Sakkardara police station and Priya Apartment near Chhota Tajbagh.
A tree was uprooted on the road near Hedgewar Smarak at Reshimbagh. Similarly, a tree fell down on a basketball court at Chandan Nagar. More such incidents were reported from Kendriya Vidyalaya, Laxminarayan Mandir in Mahal, between Bajaj Nagar Square and Laxmi Nagar Square, Ayurvedic Layout in Sakkardara and some more places. As per the fire department, no person was injured.
There was waterlogging on major roads, internal lanes and open plots.
Regional Meteorological Centre (RMC) had predicted light to moderate rains in the district and other parts of Vidarbha on Sunday. Scattered light to moderate rains are predicted also for Monday.
As per RMC, the region is likely to get heavy rain on Tuesday and Wednesday, followed by light to moderate rains till Saturday.