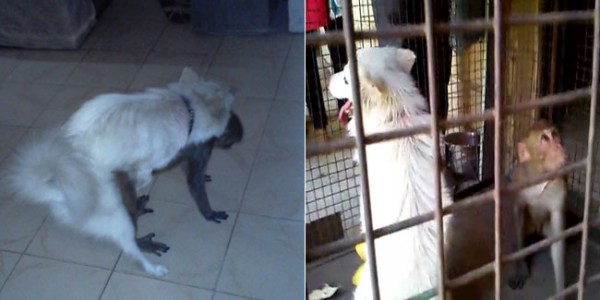 Nagpur News.
It may be the mother of all mating in the visible past of Nagpur. A female monkey strayed into a house at Vishwakarma Nagar in Nagpur to meet the surprise of her lifetime. It may have escaped the wilds to ward off its male counterparts who might stalk her crazily to extract consent to mate with her but rather it preferred to do it with a dog and that too, a Pomeranian.  Whether this poor monkey liked it or hated it, but its destiny had to meet the fate which involved it to mate unusually with this dog.
The bizarre yet interesting episode took place when the monkey stormed the colony and even bit two boys, both brothers. Later it intruded the house of Abhayrao Shewai. He jumped across from bedroom to kitchen and scattered the articles there. The two boys were rushed to the doctor who gave medication to them.
Meanwhile, someone from the onlookers called up the wildlife enthusiast and sarp mitras Piyush Waghmare and Shrinkant Ambarte, who immediately forwarded the information to the forest department and Nagpur Municipal Corporation. No sooner the rescue team comprising Dinesh Tambe and Durgarao Khare reached with the cage to catch the monkey than the entire scene wore a dead silence.
The monkey which was quite uproarious a moment before did not seem to act any more as the noise emanating from the house suddenly mingled into calmness. The anxious lot gradually inched towards the house to explore the situation. All watched curiously with the astonishment of their lives as they found the pet Pomeranian was forcing itself upon the monkey who too did not resist and apparently relented to the dog's demand. The crowd started clicking shots, some of them making mobile clips of this rarest of the rare mating scene – a dog doing the monkey.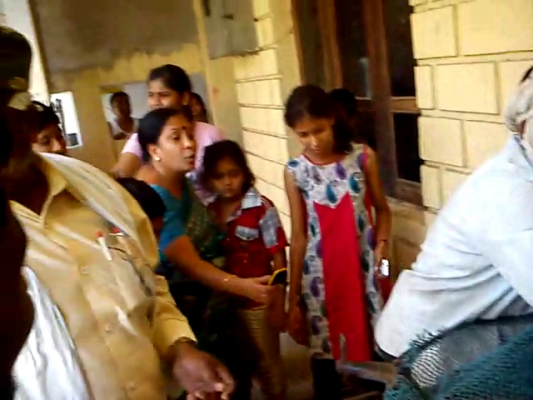 It was after some time only that the forest employees managed to lure the monkey in the cage by putting mangoes into it. As the monkey jumped up towards the cage, the dog too followed abruptly. Consequently, both of them landed in the cage barking and chattering as if nothing on the earth could do them apart.
Different views made different opinions. While some were rendered speechless, some tried to justify it by blaming the act on the "rising temperature" but a peculiar comment caught everyone's attention. That the two might have reincarnated and could be lovers in their previous birth!!!! Now there was nothing left to say…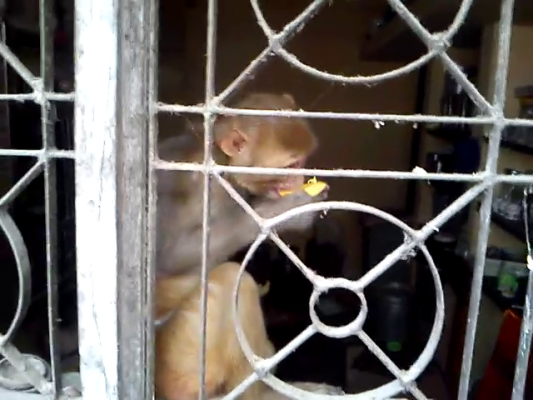 Later the dog was left in lurch as it was forced out of the cage and the monkey was taken off to the forests.
The story did not end here. It was reported that neither the monkey nor the dog has eaten anything till the time the news was written. The Shewai family is now reportedly considering to send their loved dog to stay with its mate, unfortunately a monkey in this case.
By Ravikant Kamble…