Modi US visit : why has issue of H-1B visa not been raised ?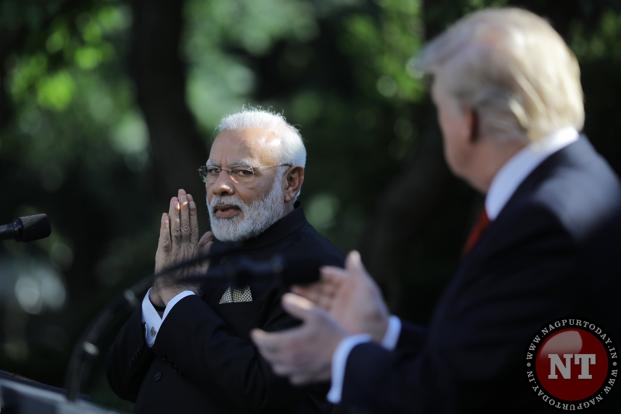 When Trump came to power as US President, the one group that despaired most about its future was that of Indian techies who look forward to working in American Companies, or Indian for that matter but based in USA.
To avail of these jobs they need an H-1B visa, or work permit as it is called, which has always been restricted by 'quotas' decided by American Immigration Dept.
Donald Trump, with his 'America First' rhetoric had specifically targeted Indians being hired by the Software/ Hardware technology companies "leading to many deserving American graduates being left out of jobs."
This had led to a situation of 'reverse brain drain.'
According to an article in H.T.
'More Indians living in the US want a job back home after Donald Trump became the president of the world's largest economy.
The number of Indians in the US searching for jobs in India has gone up more than 10-fold between December and March, according to an analysis by consulting firm Deloitte Touche Tohmatsu Pvt Ltd, shared exclusively with Mint.
There were approximately 600 US-based Indians seeking jobs in India in December 2016. By the end of March 2017, the number had gone up to approximately 7,000, Deloitte analysis said.'
Trump edict already being enacted
For another year running, the US Citizenship and Immigration Services (USCIS) on Friday announced an early end of the process for accepting applications for H1B temporary work visas for high skilled foreign workers for 2018.
The USCIS, which runs the H1B programme, started accepting applications for the 85,000 annual cap on April 3 65,00 for foreign workers and 20,000 for international students and like the last few years, it shut down the application process saying it had gathered enough applications. It did not specify selections, if any made under the 'lottery system' or how many applications had been received.
Indian PM Modi was expected to bring this up
When Narendra Modi left for US in his first visit after Trump became President there was lot of anticipation about what would be discussed mutually by the two world leaders.
H-1B visas was the first among them. Trade and Weather change were also supposed to figure.
But surprisingly, Modi did not bring the subject up at any of his meetings. Technology has been at the centre stage of the Prime Minister's ongoing United States visit. This was discussed when he addressed Indian diaspora and also when he met 21 CEOs of US-based companies on Sunday.
However, the most controversial of all issues – that of high skilled American H-1B work visas- was not discussed.
According to popular Business magazine Forbes, on this issue Trump has already triumphed!
Writes Forbes:
Narendra Modi has landed. His homebased Indian tech companies' abuse of the U.S. immigration system won't be a topic of discussion. That's because POTUS (popular acronym for American President) has already won that fight with the Indian outsourcers.
President Donald Trump might not need a wall, or need any major revamps to the polemic H-1B visa used by tech companies to bring in foreigners. Just the idea circulating the planet that Trump is going to steamroll foreigners and Make America Great Again has them staying home.
It seems Modi has not had the opportunity or gumption to challenge this notion on behalf of his fellow Indians.