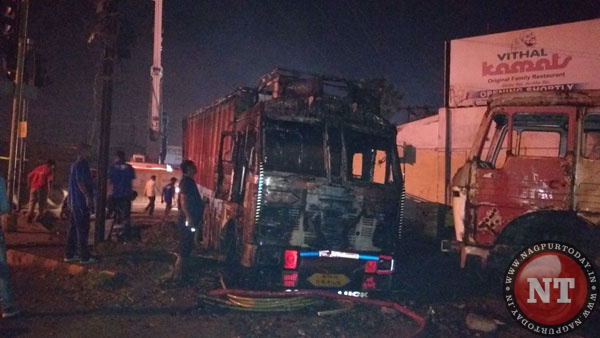 Nagpur: Tension ran high when hundreds of residents, '-imcluding activists of some prganisations, set afire a truck at Automotive Square on Kamptee Road in jaripatka on Thursday night. The residents rescued the cows and calves being illegally transported to slaughter houses in the truck before setting the vehicle afire.
According to sources, police got information that a truck was illegally carrying cows to slaughter houses.Cops tried to block the said truck but the driver did not stop. A police team started chasing the vehicle. After a hot chase, it stopped at Automotive Square after hit-ting a vehicle.
Residents gathered and rescued the cattle. A mob then set the truck on fire. Some members belonging to a minority community then clashed to the arsonists. Staff from Jaripatka, Yashodhara Nagar and Pachpaoli police stations was deployed to handle the situation. A team of firefighters rushed to the spot. Two lire tenders were pressed into service, firefighters doused the flames. Cops later detained some persons.