Mob of goons demolish mobile shop with JCB machine in Sitabuldi, luck escape for 3 youths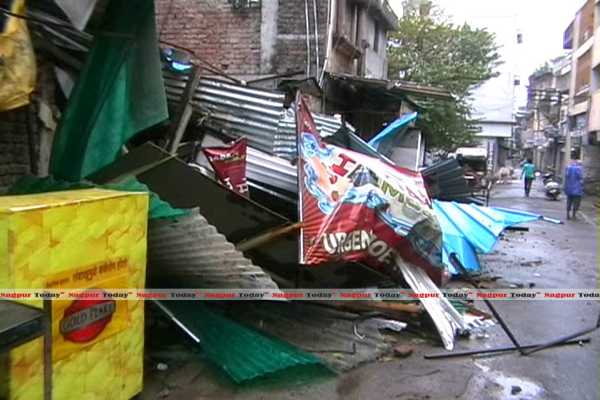 Nagpur News: A mobile shop in Sitabuldi was ransacked and demolished in the wee hours of Thursdayby a mob of 20 anti-social elements on the directions of owner of the place. In the demolition action, three youths escaped narrowly being crushed under the debris. The mob used JCB machine in demolishing the mobile shop.
According to reports, Dadaji Mobile Shop, situated in front of Pakodewala Galli in Sitabuldi, was being run by Ravi Savaithul for the past six years on rent. However, in the last month, the owner of the place Charde asked Ravi to vacate the place. Ravi, disappointed by the sudden demand of owner, sought some time for vacating the shop. But thereafter, Charde started threatening Ravi of dire consequences if he did not vacate the place immediately. After receiving life threats from Charde, Ravi lodged a complaint with Sitabuldi Police Station against Charde. But Sitabuldi police neglected and took the complaint lightly. Taking advantage of police lethargy, the mob of anti-social elements demolished the shop within moments with the help of JCB machine.
However, 3 youths were sleeping in the shop when the shop was demolished without warning and without mercy. The luck was with the 3 youths that saved them before the debris of the shop came crashing down. The sound of JCB machine woke them up and they escaped the spot at nick of the time.
The sudden demolishing of Dadaji Mobile Shop put Ravi Savaithul at loss of lakhs of rupees as the goods stocked at the shop got totally damaged by the heavy debris. Many eyebrows were raised over police role in the entire episode. Without their help, nobody could have dared to bring JCB machine for demolishing the shop, sources said. At present, an offence has been registered at Sitabuldi Police Station.