Nagpur: It was a first time in Maharashtra where the installation ceremony of Vidharbha Sindhi Vikas Parishad (VSVP) youth wing a social organization into development of psycho social financial development of the community was done by the hands of "Mitra" the robot while the summit was inaugurated by Nitin Gadkari Road Transport and Highways, Shipping and Water Resources, River Development and Ganga Rejuvenation on February 9 at Vanamati hall. In one the videos of the event, Gadkari is seen interacting with the robot while the guests surrounding him had a good laugh at the response of robot.
The center of attraction was Mitra robot who delivered speech and interacted with the audience on various topics as a part of artificial intelligence development recently being discussed worldwide.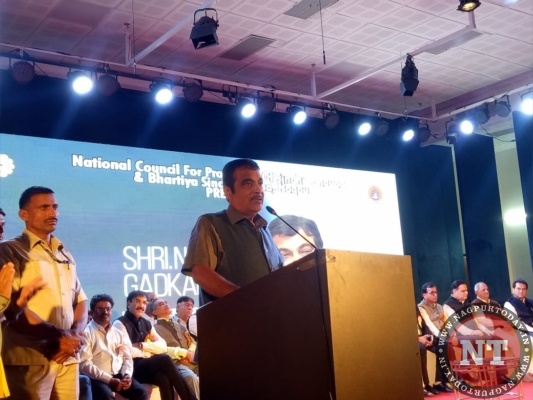 Vsvp youth wing consist of intellectuals and professionals from all fields who have zeal to contribute for the society and were looking for an proper platform. These youth have an ample intelligence to change the social structure and bring reforms with their expertise field.
Goals and vision of vsvp was shared by president Dr Vinky Rughwani and sr.vice president Pratap motwani.
The program witness a youth summit and SED talk in collaboration with national council for promotion of Sindhi language [ under ministry of Hr ] and Bhartiya Sindhu Sabha a national organization for social development on the same day with various speakers and guest in presence of eminent
personalities.
Social changer speakers like Chintak sutaria , Abhijeet Barse, Shree Ghansyam Kukreja ,Dr vinky Rughwani vinay chawla ,D r Vinod Assudani ,Dr Anil Jawahirani Raakesh kriplani will speak for youth development.
Prominent guest present during the program will be Virendra Kukreja chairman standing committee, Ghanshyamji kukreja vice chairman national council for promotion of Sindhi language and other eminent authorities from the political educational field .
Another special guest was Mrs India universe Preeti Meena who addressed people on women empowerment. An bestowal awards function was also organized to felicitate youth who have done excellent at state or national level with some social impact.
A fashion show on theme 'Mohenjo Daro' was presented by cadence fashion academy along with many mind blowing humorous performance of youtuber driven hazari from Mumbai and talents from northeast Palash Dutta ,Manjushree Assudani , Anshu Alimchandani, Mangesh Deshpande , Amrita Vacher, and students from central India public school.