Miss LAD Contest – 2015 turns full feat for Phenomenal Girls

The annual event of LAD College, Nagpur 'Miss LAD Personality Contest 2015' was well organized yet again this year with usual opulence and dignity.
The contest is not a beauty pageant, but a total personality contest where the participants are put to test to check their soft skills, grooming, communication and convincing abilities, EQ and IQ. The interaction of the eminent trainers and the bubbly enthusiastic contestants, provides a kaleidoscopic mix of wit, humor, intelligence, daring, beauty with brains, ET all.
Under the able guidance of Vice Principal Mrs. Harsha Jharia, the event gets implemented by the students of the college. The training and grilling practice session of the contestants had started 2 1/2 months back.
This year as well, the event served as perfect platform for students to showcase their hidden talents. The participants voiced their emotions that they, underwent a sea change in personality, boosting self confidence in themselves, which not only shall assist them to enter the professional industry, but also sail through their professional career in future.
The students were motivated by the Vice Principal of the Seminary Hills College Mrs.Harsha Jharia who is the Event director and Choreographer too. The contestants were also trained by Dr Meenakshi Kulkarni , Swati Banerjee, Sonal Trivedi,Mehrosh Sheikh.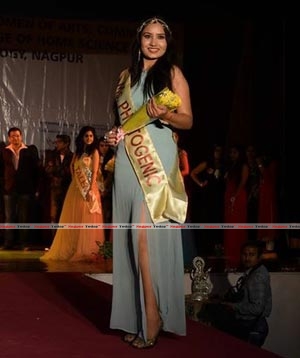 Dr Shishir Palsapure trained the contestant in confidence building.
Mrs Nidhi Gandhi trained them for grooming and styling
Puja Gehani of INARA Nail Spa and Salon took session on their makeup
Mrs Shilpa Agarwal trained them how to prepare for the contest
Dr Rani Bhutada & Meghna Kulsunge took session on skin & hair care.
The program was compeered by Ms. Neha Hood & Madhura Borde, Zahra Hinganghatwala , and Anam Rahman .
Gratitude by students was offered to the Principal Dr.Shymala Nair and the Director Dr.Panna Akhani for giving them this opportunity.
Mrs. Shilpa Agrawal,Mrs. Rina Sinha,Mrs Nidhi Gandhi,Mr. Lalit Khullar and Mr. Amar Jajoo judged the contest.
The winner of the contest who was title as 'Miss LAD' Kajol Shrivastava. No 28
First runner up Aashna Gambhir contestant No 19
second runner up Ms. Swaima Ahmad. contestant No 17
The subtitle winners were as follows:
Beautiful hair- Ms. Rashi Hasani No 13
Beautiful Skin- Ms. Rucha Moghe contestant No 24
Miss Photogenic- Ms. Bhumika Kewalramani contestant No 25
Miss Talented – Prize was shared by Ms.Mayuri Gujarathi 27 no and
Ms. Aashna Gambhir 19
Miss Perfect 10- Ms. Shruti Shende contestant No18
Beautiful Smile- Ms. Ashwini Ladekar contestant No 4
Ms.Vishakha Chawla and Ms. Hashmi Khan captured the memorable moments.
Ms. Sunidhi Rathore and Ms. Palak Patni gave the event a blastful of music.