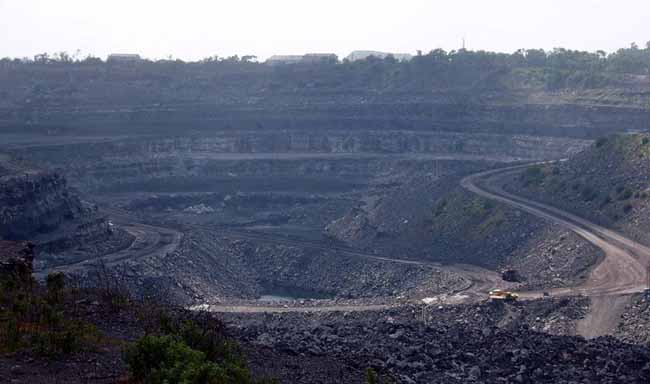 Nagpur News.
More than half the area of Nagpur tehsil (rural) has been brought under the purview of open cast mining that led to banning of construction and registration of land in these areas. The farmers whose land has been earmarked under coal belt are worried over the decision while the revenue department's ban on sale and registration of land in these areas has given builders sleepless nights. These builders include mainly those who were planning to come up with residential townships in these areas.
Revenue Department has declared that 55 percent land from Nagpur tehsil would come under this coal belt which would be used for open cast mines. The department has issued orders to gram panchayats to seize construction of new buildings and sale of land in the proposed opencast mines.
A total of 3739.84 hectare agricultural land and 1204.97 hectare of  government land will be affected with the expansion of this proposed opencast coal mining. In all 4944.41 hectare (12298.13 acres) land will be under coal belt.
It is to be noted that former Prime Minister P V Narsimha Rao, in 1999, constituted a Coal Linkage Committee to check supply of poor quality coal to power generation units due to which government was suffering heavy losses. Directors from Power Ministry, Coal Ministry and Railway Ministry headed this committee. The committee takes decision on quantity of coal to be supplied and to whom. There are 73 government power generation units and 35 Government-run power generation units to which coal is supplied on a large scale. Also, private power units are also supplied coal for power generation. Thus, the demand of coal has incredibly increased. To deal with this demand of coal, former Power Minister N K P Salve and former Coal Minister P Sangama formed schemes for coal supply.
Under these schemes, land survey works were conducted in and around Nagpur region to locate the coal reserves in the area. During the survey, huge quantity of coal reserves approximately 20,000 crore metric tonnes has been identified in the Godhani Railway, Bokhara, Lonara, Bharatwada, Gorewada, Borgaon, Gittikhadan, Seminary Hills, Nara Nari, Panjra, Chakki Khapa, and regions under Saoner tehsil Saoner, Pipla, Patansawangi, Adasa, Dhapewada, Sillewada, Beena, Bhanegaon, and few regions under Kamptee-Kanhan.
Government has issued order that mining could get a kick start any of these areas whenever supply in coal falls. This has endangered the future of many farmers, builders in the areas.
Possibility of land frauds
With the large area coming under open cast coal mining, farmers and builders who own their lands in the affected area would attempt to sell their lands and earn profit. The possibility of fraudulent land dealing could not be ruled out. Thus, civic authorities will have to have a strict vigil over land dealings in the area.
Areas coal belt
Area                                       Agricultural Land        Government Land            Total
Mouja Gorewada                  347.33                                   398.45                                          745.78
Jhingabai Takli                     493.77                                    78.60                                          572.37
Godhani Railway                 418.06                                    150.02                                           576.02
Piteshwar                              137.03                                    200.92                                           337.95
Bharatwada                      404.27                                        71.24                                            475.51
Chakki Khapa                      208.54                                    74.90                                             283.44
Lonara                                    506.67                                   40.96                                              547.63
Bokhara                                 460.95                                    460.95                                            921.9
Nara                                       763.45                                    35.31                                                718.76
(All figures in hectares_
(The area of 78.60  hectares in Jhingabai Takli comes under Road Development land)
…. Rajeev Kushwaha ( mail to rajeev.nagpurtoday@gmail.com )