Nagpur: Nagpur's Mihan added another feather on its cap on Saturday as Tata Group-controlled TAL Manufacturing Solutions Ltd (TAL) dispatched 5,000th Advanced Composite Floor Beam (ACFB) to aircraft maker Boeing Co. for its 787-9 and 787-10 Dreamliner aircraft, from its aerospace manufacturing facility located in MIHAN SEZ, here.
The 5000th ACFB was flagged-off by the State Chief Minister Devendra Fadnavis and Union Minister for Road Transport, Highways & Shipping Nitin Gadkari in the presence of Sr. VP – Boeing Commercial Dr. Dinesh Keskar and Boeing India President Dr. Pratyush Kumar, ED and CEO, TAL Manufacturing Solutions Ltd Rajesh Khatri, and Managing Director and CEO of Tata Motors Guenter Butschek.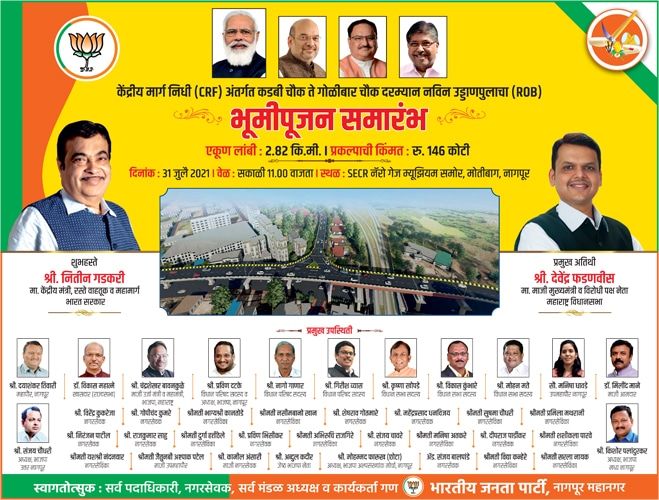 On the occasion, the Chief Minister Devendra Fadnavis said that it was the moment of proud to see Nagpur on a global map. Earlier such facility was available in cities like Mumbai, Pune and Nasik but the success of this project has strengthened the potential of Nagpur as a powerful Industrial city. Now it will be "Make in India" for world from Nagpur, he said adding that soon the city will be accorded with the facility of world class airport and cargo. The works for the same will be started soon and the benefits will follow, he added.
Union Minister Nitin Gadkari said that the aerospace in Nagpur has achieved 22 per cent growth rate at present. He said TAL has unlocked great job opportunities for the youth of Vidarbha and he aims at generating 50,000 jobs in next 5 years. He said Mihan's development would take place at any cost as Vidarbha has better human resources for aerospace facility. He also lauded the efforts to boost tourism saying that soon sea planes would be introduced in Nagpur and also sought Boeing's help in achieving this feat.
Currently, TAL is the only non-US facility to supply ACFBs to Boeing for its 787-9 Dreamliner, and it will also supply this component to the soon-to-be-built 787-10 Dreamliner. The ACFBs are shipped to Boeing partners in Italy, Japan and the US.
Rajesh Khatri, executive director and chief executive officer, TAL said, "We are despatching the 5000th advanced composite floor beam for Boeing 787s-9s and Boeing 787-10. The 787-10 is yet to be manufactured. TAL was given the order for the first five 787-19 floor beams because of its reliable and impeccable delivery and quality performance. We have invested over Rs.250 crore at the Boeing-dedicated facility in Nagpur. We started commercial production in March 2015."
Khatri said TAL has a headcount of 880 in Pune and Nagpur, of which 550 are based in Nagpur.
Boeing India President, Pratyush Kumar, called it a major milestone not just for Boeing and TAL, but also for India. "This is not just any part," said Kumar "It represents a highly advanced form of composite manufacturing that enhances India's stature in the global supply-chain network of Boeing. This is an excellent example of India bringing value to Boeing, and Boeing bringing cutting-edge technology to India – a truly win-win partnership."
The celebration ceremony was accompanied by Maharashtra Finance, Planning, and Forest Minister, GoM Sudhir Mungantiwar, Energy Minister & Guardian Minister of Nagpur Chandrashekhar Bawankule, Nagpur Mayor Pravin Datke, MP Krupal Tumane, TAL Chairman RS Thakur and other political, government & industry dignitaries.