Nagpur: Merry Christmas!! Warm wishes, greetings marked the birth of Jesus Christ. Christian brethren are celebrating Christmas on Saturday, December 25, with utmost joy and happiness. Churches across the city, including St. Francis De Sales Cathedral (SFS Church), Our Lady of The Rosary Church, Seminary Hills and All Saints Cathedral, near Bishop Cotton School and other churches have been illuminated with decorative lights to mark the birth of Jesus Christ.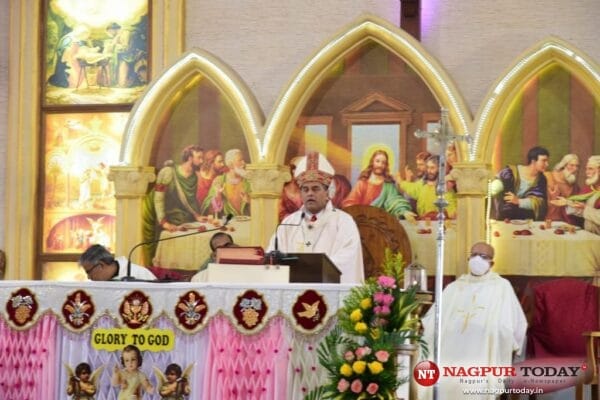 The Archbishop of Nagpur Dr Elias Gonsalves placed a replica of Baby Jesus in a crib at the Saint Francis de Sales Cathedral during the Christmas eve mass on Friday. This marked the birth of Jesus in Bethlehem over 2,000 years ago.

People celebrated Christmas together by exchanging greetings, presents, food, and traditions in fascinating ways. Carols and cakes galored on Christmas morning as the Nagpur City celebrated the festival with full fervour. The scenes were truly mesmerizing across churches. The churches showcased the birth of Jesus Christ with an elaborate set-up that took weeks to be prepared. A large number of kids, youths adorned Santa Claus attire to celebrate the festival in zeal.
However, in the pandemic time, people took all necessary precautions to bring the festive cheer with your near and dear ones.