The UWAN (University Women Association, Nagpur chapter) and PG Dept of Fashion Design of LAD College for women, have organised two days Skill development free training workshop on 17th& 18th Aug in Block & Screen printing for Mentally challenged persons of SVK Sanstha Nagpur,under the project VATSALYA which respects the Dignity of Differently Abled people especially Mentally Challenged.
The major focus of Vatsalya is to sensitize the society about People with special needs and to offer various skill training programs to Mentally Challenged and help them with employment opportunities. SVK's project Vatsalya run by Mrs.Gayathri Vatsalya,a trained Clinical Psychologist and reciepant of Mother Teresa Excellence Award is the Founder President and Ms.Prerana Masters in Gender Studies from University of Sussex,UK is the Secretary of SVK Shikshan Sanstha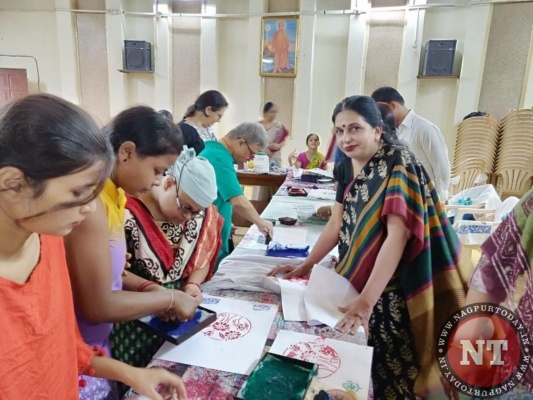 Project Vatsalya has collaborated with the PG dept of Fashion Design, LAD College for women under the Able guidance of Dr.Harsha Jharia Coordinator & Dr Varsha Mankar Head of the dept in organizing a series of skill development training programs in Textile Block & Screen Printing, Bandhani ,cloth bag making etc.
After completion of the training, differently abled persons will be offered a job in the Production unit.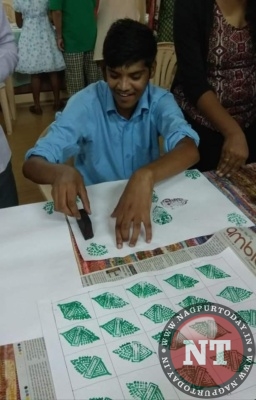 Dr Panna Akhani Director WES ,Dr Deepali Kotwal Principal ,Dr Shyamala Nair Former Principal & Mrs Lily Sinha of LAD College for Women , Nagpur were driving force for the success of this workshop. The P.G students of Fashion design assisted in training the mentally challenged & partially blind participants of Textile printing workshop
Dr Vinaybala Mehata from UWA Pune inaugurated the workshop ,she is also main sponsor for this workshop