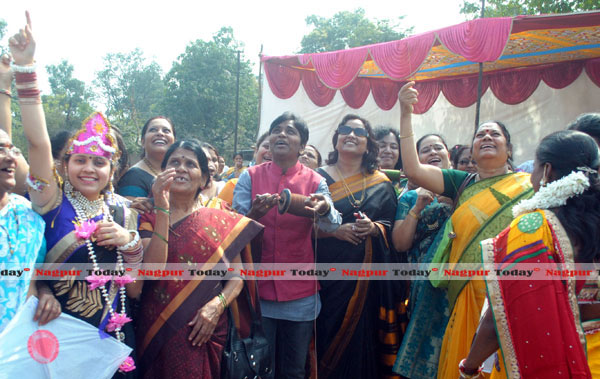 Nagpur Today.
In an exclusive talk with Nagpur Today, Additional Commissioner of Income Tax, Range-4 Pallavi Darade said that I have been flying kites since childhood with my brother and have always enjoyed it. Today, I first flew kite with my son Shrinivas and my husband Chairman of Nagpur Improvement Trust Pravin Darade I.A.S in the morning.
Women are no more restricted to the four walls and can do anything they want to. When need comes they may do it better too. I feel good that women have come out of their homes in large numbers even on a day when it is leave for their husbands and children. They are breaking away the barriers that they have been so far and are trying out everything that was once done only by men. Kite flying was predominantly a male bastion so far. Today, the way the women have turned up in the ground just goes on to say that Men beware, if women want, they can do anything.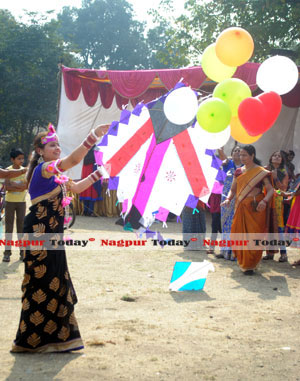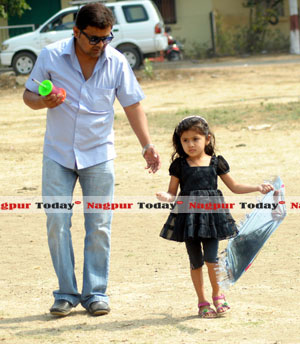 Earlier Additional Commissioner of Income Tax, Range-4 Pallavi Darade and, Priya Wardhane (wife of Commissioner of Nagpur Municipal Commissioner Shyam Wardhane), the Chief Guests inaugurated the Kite Flying Competition organized by Prayas Foundation for Girls and Ladies at Ravi Nagar Ground on January 14, 2014. Pallavi Darade in fact flew a kite for quite some time, before it crashed down due to lack of proper winds.
Priya Wardhane in an exclusive talk with Nagpur Today first wished all the citizens a Happy Makar Sankranti. She said that, since childhood, she has always heard so much about kite flying but never experienced the pleasure because she lived in a very crowded Mumbai Suburb. However, she enjoyed the experience of Kite flying today. She too said that she is happy that women have turned up in such numbers in the ground and are enjoying flying kites. She said that women, if given an opportunity can excel in anything and in any field. All it requires is they should get an opportunity to attempt any Endeavour.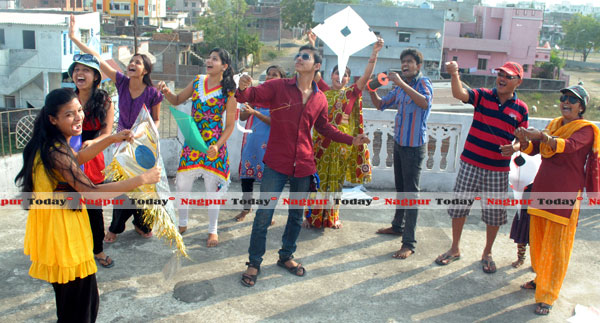 Convener of the Kite Flying Competition Pragati Patil from Prayas Foundation wished every women citizens of Nagpur a Happy Makar Sankranti and said that they every year, they organize some or the other event for the women. This year, they wanted to do something different and so they organized the Kite Flying Competition. She said that women don't get an opportunity to try out something new. So Prayas Foundation wanted to provide a platform for the women and girls to try their hand in Fling Kites. She added that even women have a right to enjoy themselves. She added that 8 women really fly kites well.
The women and girls who have registered themselves include the 12 best kite flyers.
1. Sudha Agrawal, 2. Varsha Shyamkule, 3. Shrada Tidke, 4. Anita Dharwalkar, 5. Neeta Thakur, 6. Rajni Madkar, 7. Jyotsna Pandit, 8. Chanda Chopde, 9. Snehal Dhularwar, 10. Neeli Shrivastav, 11. Aparna Naik & 12. Chitra Mohale.
All the women were seen dancing away to the music beats of popular Hindi Movie numbers. Some girls and women were dressed in traditional Marathi Kashta-Lugda sarees and with full nose rings and other paraphernalia.