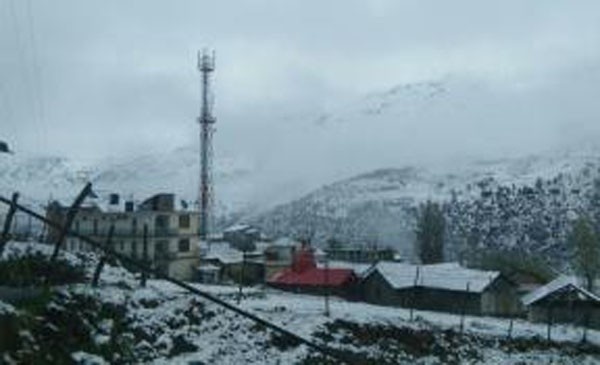 Nagpur/New Delhi: In a grim reminder to June 2013 catastrophic floods that hit Kedarnath which claimed lives of a number of pilgrims from Nagpur, the stormy weather gripping the Northern India has left many pilgrims stuck at the Char Dham pilgrimage centre. Thunderstorms, squalls and gusty winds have also hit areas of Uttarakhand throwing normal life out of gear. The extreme weather has forced government to stop Kedarnath pilgrimage. As a result over 100 pilgrims from Nagpur too have got stuck in Kedarnath. Most of the pilgrims at safer place, according to reports.
However, the fate of a couple of aged pilgrims who embarked on the pilgrimage on Tuesday morning in palkhis and by other modes is not known. Nagpur's Hansapuri-based pilgrims – Anand Tiwari and Mamata Tiwari – said that they were to leave for Kedarnath darshan on Tuesday morning. But Kedarnath is receiving heavy rains since Monday night forcing them to stay at their hotel. Several pilgrims from Nagpur have got stuck in many hotels nearby. However, two aged pilgrims, despite warning, embarked on the pilgrimage at 5 am in palkhis. Fate of the two pilgrims, also hailing from Hansapuri, is not known. Whether they have been stopped at any other place or trapped has not been ascertained immediately. Both did not have mobile phones. The Tiwari couple further said that heavy rains are lashing Kedarnath and temperature too has plummeted. If the weather clears by afternoon, pilgrims could go to Kedarnath by helicopters, Tiwari couple said.
Notably, thunderstorms, squalls and gusty winds hit many states on Monday night throwing normal life out of gear. Although weather has improved a lot but precautions are being taken to avert untoward incidents. According to the weather office, thunderstorms and gusty winds are likely to hit many parts of India, including northern parts, till Friday even as the mountains of Himachal Pradesh received fresh snowfall. In a weather warning bulletin, the India Meteorological Department (IMD) said the States likely to be affected by thunderstorms and gusty winds are Delhi, NCR, Uttar Pradesh, Haryana, Rajasthan, Chandigarh, Jammu and Kashmir and some other states such as Bihar, West Bengal, Sikkim, Odisha, Assam, Meghalaya, Nagaland, Manipur, Mizoram,Tripura, Karnataka and Kerala. It also warned of dust storm in Rajasthan while heavy rain is expected in six north-east States. The bulletin also warned of heat wave conditions in "one or two pockets in Vidarbha."
Last week, thunderstorms had wreaked havoc in parts of Uttar Pradesh and Rajasthan, killing nearly 100 people. Strong surface winds followed by hail storm turned the weather here in Uttar Pradesh on Monday prompting an alert from the Met office for the next 48 hours till Wednesday. On Monday, Mainpuri, Firozabad and Mathura suffered heavy losses after winds over 100-kmph lashed the districts followed by the hail storm.
The strong surface winds and heavy rains disrupted Kedarnath yatra badly leaving hundreds of pilgrims including many from Nagpur stuck.