Nagpur: Take any Haldiram packaged snacks ( namkeen) packet and turn it around. On the flip side, you will see description of the product in English, French and other international languages. Proof that this namkeen we all love, is consumed across the seven seas…
We, in Nagpur therefore are so proud of Haldiram. Not so much their restaurants or their packaged snacks – just the name itself signifies Success for us. Not just local or national – international success!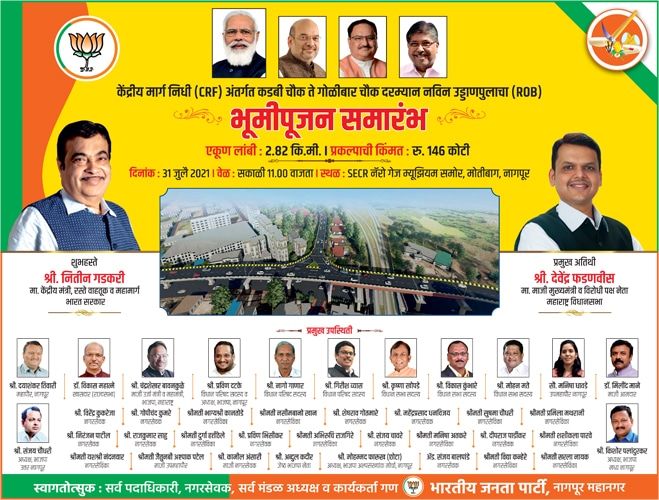 It may come as a shock to learn that most Haldiram products are considered 'unfit for human consumption' and banned by the American FDA.
The below is information souced from their official 'US Dept of Health and Human Services, Food and Drug Administration site –
Compared to the other countries, more snack imports are rejected from India than any other country in the first five months of 2015, data on the website of the U.S. Food and Drug Administration showed.
More than half of all the snack products that were tested and then blocked from sale in the U.S. this year were from India. Indian products led the world in snack rejects last year as well.
The majority of Indian snacks rejected by the FDA this year were from Haldiram's, which is a Nagpur-based food company. Sugar candies and salty Indian snack mixes are the products that are blocked from the company.
A.K. Tyagi, a senior-vice president at Haldiram's, said to its food "is 100% safe and complies with the law of the land." Discrepancies, he said, arise because food-safety standards differ in India and the U.S. "A pesticide that is permitted in India may not be allowed there. And even if it is, they may not allow it in the same concentration as it is here," he said while speaking to andhrawishesh.com
After India, Mexico stood in the second place in terms of rejections in 2015, followed by South Korea. The shocking thing is, China, whose exports to the US are worth ten times as much as India's, is in the eight place. In fact, it's not only snack foods, The U.S. FDA is continuously rejecting all sorts of imports from India, including cosmetics, drugs and ceramics too.
Why did the Indian snacks fail the U.S. FDA tests?
Various problems in packaging and labeling to alleged contamination. FDA complains that, Indian products contained high levels of pesticides, mold and the bacteria salmonella
In fact, FDA blocked a product from the western state of Gujarat, as it consisted of whole or in part of a filthy, putrid, or decomposed substance or be otherwise unfit for food.
What implications can be drawn from this?
First, that the US is more concerned about its citizens not consuming foods laced with pesticides, mold ( a kind of fungus) and dreaded bacteria Salmonella than the Indian government is about Indians.
Or –
We also have these specifications, but our labs are not doing a good job of carrying out the tests.
Or-
The US is playing unfair and failing Indian products purposely, specially products of Haldiram, Nagpur??
Now, why the US do that? The case cannot even be that ALL foreign ready to eat snack samples are failed. As the news item states, China exports ten times the quantity that India does, yet its number is 8th on the list, while India's is first.
What the Nagpur Food and Drug Commissioner have to say
NT just spoke to Mr. Pawar, who is in charge of quality control of Food and Drugs sold in Nagpur area. When I told him about the news of Haldiram products failing in USA, he expressed surprise and commented that 'he had not come across any such news'.
When asked about their testing of these products, he was quick to clarify that his office does not do any testing itself.
"We are like the police. We just collect random samples and send them for testing to Govt. labs which are there in Nagpur. Pune and Mumbai. The labs tell us if samples have failed – if not, we assume everything is fine."
When the undersigned probed further, she was told that " 95% of Haldiram samples pass the test in these labs. He did not recall any time when any 'namkeen' or 'mithai' had failed the test. There may have been some problems with milk sold by them sometime, but that also rarely."
Halidram's claims
We surfed through the internet for Haldiram product quality and found most of the sites were official sites put up by the Company itself, where it boasts of its 'superior quality' and success in exports.
Read what it says – "Presently, we export our products to Canada, Australia, New Zealand, Italy, Sri Lanka, United States of America, Malaysia, Poland, Singapore, Hong Kong, Qatar, South Korea, South Africa, United Kingdom, Saudi Arabia, United Arab Emirates and many more developed countries. Haldiram's has been the proud recipient of many awards…."
And just what are the awards it sites –
…" such as the International Food award from TROFEO International Alimentation of Barcelona, Spain (1999). Shri Shivkishanji Agrawal, Chairman of Haldiram's Group has also received a regional award, titled "VIDARBHA GAURAV PURASKAR"
A membership of a European association is also cited. But is just a member of any body a guarantee of quality?
Finally, for those who may jump to the conclusion that since we ( India) banned Maggi, they (USA) banned Haldiram… it is not quite so. First of all, Nestle is not a US Company – it is European. Secondly, Us, FDA found Haldiram samples wanting much before the Maggi storm hit India. According this blog site on 'Real India'
Indian regulators' findings that samples of Nestlé Maggi instant noodles contained impermissibly high levels of lead stunned middle-class consumers this month. But long before India yanked the product off store shelves, U.S. food-safety inspectors had deemed hundreds of made-in-India snacks unfit for sale in America.
Data on the website of the U.S. Food and Drug Administration show that it rejected more snack imports from India than from any other country in the first five months of 2015.
So do these finding show that while we are super sensitive about contents of 'foreign' company food products, we are turning a blind eye towards our own, which we consume in larger numbers? Do we practise double standards even at the cost of our citizens' health?
….Sunita Mudaliar