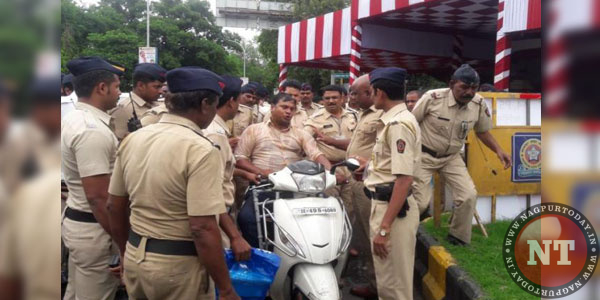 Nagpur: Police today foiled a bid by a differently-abled man to kill himself by immolation outside the Vidhan Bhavan complex here where monsoon session of the state legislature is underway, an official said.
The man, identified as Ashish Amdhare (32), was apparently agitated over Lakadganj police in the city not registering an FIR he had sought to lodge in an assault case, the official said.
Sitabuldi police station inspector H K Kharabe said Amdhare arrived in front of the main gate of the Vidhan Bhavan in Civil Lines area at around 1 PM.
He was carrying a small can of kerosene, the officer said.
"Amdhare poured kerosene on himself and tried to lit a match, when the police personnel on duty overpowered him," he said.
Amdhare told the police that he had met with a road accident with a tanker in Lakadganj area on July 15 and was beaten up by the driver.
He claimed that when he approached Lakadganj police station, the police officials there merely registered a non-cognisable (NC) offence and not the FIR he had sought to lodge against the driver.
Agitated by this, Amdhare tried to kill himself today, the police officer said, adding that they are verifying the claims of the man.